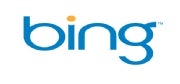 Microsoft, armed with its Bing search engine, is stepping up its assault on Google with the introduction of a unique beta search and shopping tool called Visual Search. The Visual Search feature offers an alternative to lists of blue links that are often delivered by search engines when researching cars, cameras, or other topics. Visual Search was announced Monday by Yusuf Mehdi, a senior vice president at Microsoft, at Tech Crunch 50, a tech conference in San Francisco.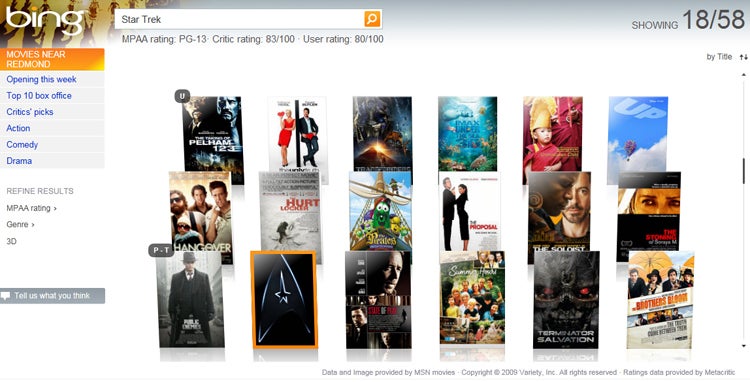 Instead of displaying traditional lists of Web site search results, Bing's Visual Search displays rows images of items that can be scrolled through via a slick interface. For example, a search on Bing for handbags, Yoga poses, or movie showtimes will deliver traditional results. Now look to the left-hand side of your search results and you'll see an option to "Visualize" the search. Clicking on this link takes you to the Visual Search page, which allows you to scour images — not text links — to help you explore or winnow your search down fast. The tool also offers refinement options to narrow the number of images by criteria such as price, movie theater, or team (when searching for sports).
To preview Visual Search topics visit this Bing page which should be live by the time you read this.
Microsoft says Visual Search will be rolled into Bing over the next few weeks with some customers seeing it before others. By the end of September, company representatives say, the feature will be live to all. The move comes as Microsoft has seen moderate success with Bing. Since its launch in May Microsoft`s Bing search market share in the U.S. grew slightly in July to 9 percent, according ComScore, a market research firm. Google owns 65 percent of the search market compared to Yahoo with 19 percent (Bing and Yahoo's combined market share is 27 percent).
Visual Search: Hands On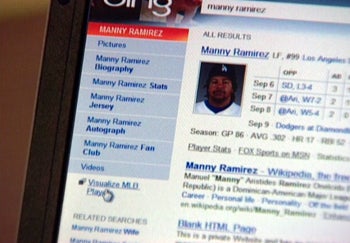 With the example of visually searching for cars I started out with 25 images appearing on my Web browser. Using a scroll bar on the right I was able to quickly scroll through hundreds of images of cars. When I hovered my mouse over a picture of a specific car, a balloon popped up containing additional vehicle information. Click on the image and I was taken to Bing search results for the make and model of the car I was looking at.
Thanks to a slick user interface, kicking virtual tires of cars is loads of fun, but what makes this technology really handy is its capability to winnow down your search. On the left-hand side are tools for narrowing the number of cars by 25 most popular, SUVs, or make and base price. Each time you select a preference, the number images is reduced.
Unfortunately, Visual Search is limited to 50 topics fow which Microsoft has created Visual Search libraries. That's right; there is no Bing engine that can create a Visual Search result on the fly for just any topic. Microsoft creates them specifically for what it determines are popular search results. Search cell phones, Olympic sports, or laptops, and no such Visual Search is offered.
I found this an addictive way to explore topics not limited to cars, but also politicians in office, MLB players, and dog breeds.
The number of topics Microsoft says it will expand to depends on how popular the feature is with Bing users.