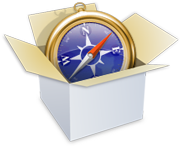 Imagine playing fully-fledged 3D accelerated games on any platform, without installing anything, directly from your Web browser! Better yet, what if the technology was open-source, so any and all browsers could integrate it as a standard?
This utopian reality may happen sooner than you think, thanks to WebKit, the open source layout engine derived by Apple from KHTML for the Safari browser. In fact, just a few days ago, WebKit inconspicuously patched its sources to include WebGL- a Web-based implementation of OpenGL ES 2.0 using JavaScript bindings. The inclusion into the popular engine could be just the thing to give Adobe Flash a run for its money.
The quiet addition came mostly unannounced as WebGL is still largely under development. However, Google Chrome (which is based on WebKit), Mozilla, and Opera have all committed to WebGL for inclusion in their browsers. Its integration into Apple's WebKit brainchild means it will almost certainly be adopted into Safari as well. No word from Microsoft yet, but given their track record of creating proprietary technology over adopting open source standards, I wouldn't hold your breath over this one.
Given the inherent speed in Web-standards development, I imagine you'll be seeing finished browser implementations of WebGL in a matter of months.