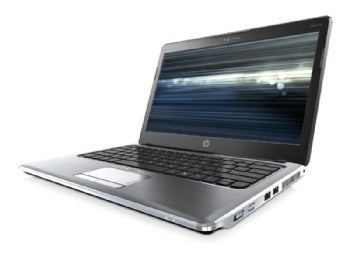 Riddle me this: What is less than an inch thick, weighs 4.2 pounds, and starts at $549? If you read the headline, you might've already figured this one out–HP's new Pavilion DM3. What is still puzzling, though, is why we haven't seen more machines try to encroach on this tweener category of "ultraslim" laptops.
For those unfamiliar with this new trend, the so-called ultraslim falls between category cracks. It's more powerful than a conventional netbook, has the dimensions (and the slick style) of an ultraportable, and doesn't break the bank. HP's Pavilion dv2 ushered in the category early this year, but we haven't seen many others come along since. No other machines sporting the AMD Neo processor have made it to market yet, and only now are we seeing machines boasting nVidia's Ion platform (you can check out the news about HP's Mini 311 for more on that).
The DM3 is that next step in this evolutionary path. The machine comes in both AMD and Intel flavors, so let's get the differences between these 64-bit Windows 7 machines out of the way, first. The AMD version packs the 1.6GHz Athlon Neo X2 dual-core CPU, a 320GB hard drive (7200 rpm), and an ATI Radeon HD 3200 series GPU. In short, a spunky little system.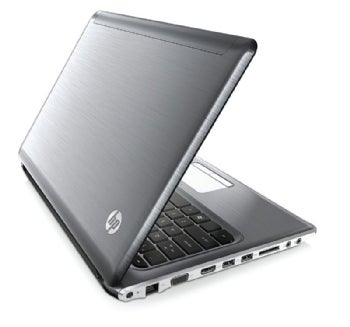 The Intel version, on the other hand, offers the 1.3GHz Pentium SU4100, a 500GB hard drive (7200 rpm), and an integrated GPU–not exactly heart-stopping. It'll probably be enough to get you through the day and watch videos without a hitch, but the lack of a proper, discrete GPU on the Intel model already tips the scales in favor of the AMD (in my humble opinion)–but I haven't had a chance to play with either, yet. Obviously, we can't go into performance specifics at this time, but for a little perspective, the dv2 got a 45 in WorldBench 6. Another thing we can't test right now is battery life. HP spokespeople promise that this machine will last up to 10 hours with the standard-issue 6-cell battery.
As for what the two DM3 flavors have in common, it's a lot: A fairly sharp-looking 1366-by-768-pixel panel on a 13.3-inch display, a 5-in-1 digital media reader, 4 USB ports, VGA and HDMI-ouputs, headphone/mic jacks, 802.11n Wi-Fi, and 10/100 ethernet.
Now obviously, we're not ready to review this machine yet, but if its release is any indicator, the netbook sector will continue to splinter and be shaken up by disrupters like the DM3. As an ultraportable user who didn't want to spend a lot of money, I gravitated to the dv2; and for a couple hundred dollars less and more features, the DM3 makes an equally strong case now for netbook users.
Think about it for a second. The DM3 isn't going to cost that much more than some high-priced netbooks–such as the Samsung Go and the Lenovo S12–and they don't offer the hard-drive space (or speed), RAM, or 3D performance that this machine offers. If anything, I'm anticipating an interesting horse race between HP's DM3 (with the Athlon Neo) and HP's Mini 311 (with the nVidia Ion platform). Stay tuned for full reviews, because it's going to be a very interesting Fall for laptops.