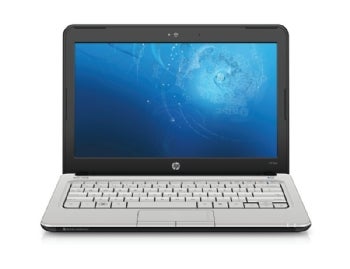 [UPDATE 9/15/2009, 1:03pm PST: Since writing the original story, I've now had the chance to play Call of Duty: Modern Warfare on the machine for a few minutes and I must say that it runs considerably faster at 1024 by 768 than initial runs on early Ion testbeds. In short: I can't wait to really get my hands on this machine for proper testing.]
Lenovo has teased us with the knowledge that its IdeaPad S12 will eventually hit the market as one of the first netbooks boasting nVidia Ion support. HP's Mini 311-1000NR is another such netbook, and it's coming soon, starting at $399. For those that missed the reams of stories I've already written about the Ion platform, here's the short version: For netbooks or nettops, it marries an Intel Atom CPU (in this case the N270) with a GeForce 9400M GPU. This allows for more powerful, affordable machines capable of outputting 720p video and even playing some games.
Also fueling this machine is 1GB of RAM and a 160GB 5400RPM hard drive. In other words: Aside from the GPU, the 311 has standard-issue netbook guts. Unfortunately, I can't yet tell you exactly how much extra juice that GeForce 9400M buys you. Besides the obvious problem that we haven't had a chance to run WorldBench 6 on a machine just yet, I haven't had much of a chance to kick the tires. I was shown the machine at a line show where I had a few minutes of hands-on time, and that's it. Sadly, there were no games installed on the demo unit–which seems a little crazy to me. After all, gaming on a netbook is one of the big bullet-point promises of the platform.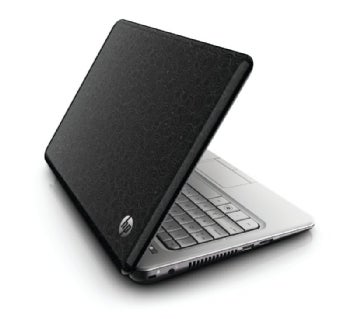 Personally, I can't wait for a final product if only to see how an Ion netbook will fare against AMD's tweener-class Neo CPU that came on board the category-defying HP Pavilion dv2 (which scored a 45 in WorldBench 6). What I can say for the time being, though, is that basic computing tasks look good on the sweet-looking screen.
Yep, like Acer's Aspire One 751h, the 311 takes netbooks to the relatively "big" size of 11.6 inches. The LED BrightView display, at 1366 by 768 pixels (a 16:9 aspect ratio), looks pretty sharp in initial glances; however, since the whole demo day was on HP's terms, we didn't really get to throw tests at it.
One thing that is easy to see: HP's take on the platform is fairly stylish. That doesn't come as too much of a shock considering that the Mini (as well as the Pavilion, for that matter) sports curved lines and interesting patterns on a glossy finish. In this case, the 311 comes with a white or black swirled lid that'll hypnotize you.
The keyboard seems reminiscent of what's been done with the dv2, just shrunken down a little bit. HP spokespeople say that the 311's keyboard is 92 percent of full size. You know, if they let the keys drip closer to the sides of the machine, that might have allowed buttons of 93 or even 94 percent of full size. And I wouldn't complain.
The touchpad and button placement along the bottom toes the line–a world better than previous Mini models that would stupidly drop the left and right buttons in flanking position on either side of the touch area.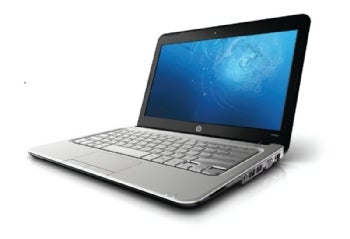 The I/O ports lining the box are also in line with what we expect from most netbooks: 3 USB ports, a 10/100 ethernet jack, VGA out, 802.11b/g Wi-Fi, and a Webcam. Some slight tweaks that I approve of: A headphone out/microphone combo jack (compatible with 4-conductor headsets you use in some cell phones), HDMI-out (obviously taking advantage of the GPU), and a 5-in-1 flash card reader that can handle SD/MMC, Memory Stick/Pro and xD picture cards (most netbooks handle only SD/MMC cards. Overall, it's nice how HP manages to jam all this into a 3.22-pound, 11.4-by-8-by-1.2-inch package.
This isn't anything near a final review–I still have plenty of questions that have to be answered and applications that I want to try out. We'll give you our full impressions once a final product shows up in the PC World Lab.