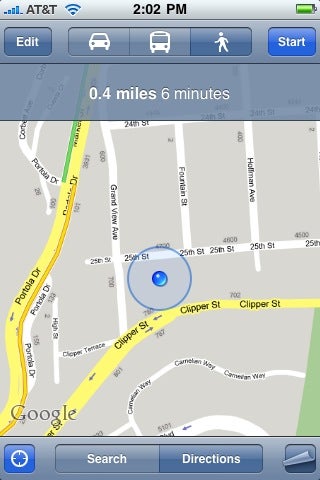 If it hadn't been so crazy expensive to use Google Maps on my Apple iPhone 3GS while I was in the UK, I might never have met Elizabeth. I probably wouldn't have made it to that charming inn/pub high up on the hill, either. And my trip would have been a bit less rewarding as a result.
Funny thing about the iPhone, RIM BlackBerry, Palm Pre, Google Android device, and other smartphones. Once we submit to the two-year contract and get used to paying the monthly ransom, we tend to grow dependent upon our phones. We read e-mail at stoplights. We book a dinner reservation on OpenTable while in a checkout line. Getting the latest news or sports scores or texting a buddy become almost unconscious activities.
We do all sorts of things with our smartphones–until we take them overseas. That's because rates for data roaming (and voice calls) can add up faster than a heavy lunch at Harrod's food court.
Let me give you just one example.
How Quickly Can You Burn 20MB?
Before leaving home, I signed up for AT&T's $25-per-month global data roaming package, which includes up to 20MB of data usage.
I could have opted for other plans, such as one offering 50MB of data for $60 per month, but I was on a budget. To save money, I'd decided to use my Samsung 120 netbook for e-mail, Web surfing, and VoIP calls in my hotel room. I'd also bought a cheap GSM mobile phone and SIM card to avoid AT&T's $0.99-$1.29-per-minute international voice roaming charges. I planned to use the iPhone only to find my location on Google Maps and get directions when lost.
Folks, how quickly do you think you'd burn up 20MB of data using Google Maps on an iPhone? I suspected it might take two or three days of moderate use. But I was surprised that in just one afternoon of extremely limited Google Maps use–to get and then follow directions from my current location to a museum–I'd eaten up 19MB of data. I had 1 MB of my budgeted amount left–and this was just the second day of a three-week trip.
As a backup, I'd also brought along Garmin's Nuvi 1370T GPS device, which includes maps of Europe and North America. Unfortunately, the Garmin maps weren't as detailed as the iPhone Google maps (and they weren't as detailed as the maps you get when using the Nuvi in the U.S.). Garmin's directions in London were often maddeningly confusing, too.
So I had a few options. I could use Google Maps on my iPhone whenever I was unsure where to go (which was often)–and end up spending hundreds of dollars in data roaming charges. I could try to find my way with the Nuvi, which wouldn't cause me to incur charges but would exact an emotional toll. Or I could revert back to what I used to do: Carry a map, rely on my own deductive logic, and in the spirit of one of my favorite playwrights, depend upon the kindness of strangers.
I chose door number three. It felt awkward and limiting at first, this whole turning-the-clock-back-on-technological-progress thing. I missed the comforting, blue pulsing dot that indicates your Google Maps position on the iPhone.
Getting Around Like a Local
Before long, however, I'd learned to live without the blue dot. I was hopping onto the Tube and climbing aboard red double-decker buses with growing assuredness. I was learning how to move about London like a Londoner.
When in doubt, I stopped and asked strangers for directions. The overwhelming majority of Britons I encountered were eager to assist, cheery, and warm. One young woman, Janet, not only showed some friends of mine and I to the Waterloo Tube station; she sat with us on the train to ensure we didn't go awry. Janet was heading in our direction anyhow, but she could have easily retreated to another car or slipped behind the pages of an afternoon tabloid.
Having grown accustomed to asking for directions–and thoroughly enjoying my interactions with the locals–I progressed to seeking their advice. After London, I spent three days in the Cotswolds countryside, using Moreton-in-Marsh as my home base. I was tasked with finding a good restaurant for a Saturday night dinner with some American friends who were also visiting the UK. So I stopped a nicely dressed, middle-aged woman, Elizabeth, on the street in Moreton-in-Marsh for her opinion on local restaurants.
Elizabeth raved about a place called Horse & Groom, an inn about a mile and a half uphill. I mentioned I didn't have a rental car and had wanted to check out the restaurant in advance. Elizabeth offered to drive me there and back for a look-see, and off we went. At the restaurant, she introduced me to Tom, one of the owners. Tom explained he had no reservations available for that evening but would do his best to take care of my party. Later that night, my friends (who had a car) picked me up, and when we arrived at Horse & Groom, I was greeted like a regular.
Would any of this had happened if the Google Maps blue dot had been a direct path to red ink? I suspect not. And frankly, I'm grateful for that, for being forced by economic necessity to abandon my iPhone, to give up some control, to see where life–rather than a blue electronic dot–might lead me.
Keep on Clicking
Mobile Computing News, Reviews, & Tips
Finally, MMS Comes to iPhone: AT&T says it will make multimedia messaging service (MMS) available for the iPhone 3G and 3GS beginning September 25. MMS has been available for years on most other mobile phones and smartphones.
Third Android in the U.S.: The HTC Hero ($180 with a two-year contract) will be the third Android OS smartphone in the U.S. when it debuts October 11 on the Sprint network. The Hero features a 3.2-inch multitouch screen, a 5-megapixel camera, and zippy 528-MHz Qualcomm processor.
Tiny Tablet Comes With Big Compromises: Our reviewer Darren Gladstone digs the Viliv S7 Premium tablet netbook but takes issue with the miniscule keyboard and crazy touchpad. Oh, and there's a little issue with the projected retail price, too.
Contributing Editor James A. Martin offers tools, tips, and product recommendations to help you make the most of computing on the go. You can follow him on Twitter. Jim is also the coauthor of Getting Organized in the Google Era, to be published in March 2010. Sign up to have Mobile Computing e-mailed to you each week.