With the proliferation of online backup services, it's difficult to stand out from the crowd. SOS Online Backup ($20 yearly per 2GB) is stable, and it backed up data reliably for me. That said, I can't label it as outstanding in any particular area and I have some small complaints about the way it does things. Also working against SOS is the lack of a free home account. As much as I might like any service, it's difficult to recommend $20 yearly for 2GB of storage over $0 for 2GB. Additional home user plans are $30 yearly for 5GB , and $50 yearly for 15GB, which are not particularly competitive either.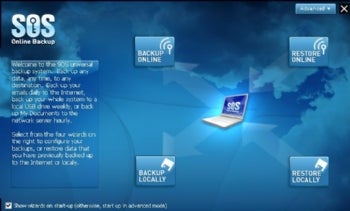 SOS's interface has two distinct looks: a modern-looking step-by-step wizard with a bitmapped background, and a more "classic" view with a traditional but plain-looking tabbed window complete with toolbar. Both are fairly intuitive, but they didn't seem to mesh capability-wise. Where the modern interface offered both local and online backup, the classic view only offered Physical Media Upload which wrote data to disk for later upload. Also, I could find no way to link the modern interface's online and local backup to a single data set.
There were other annoyances to SOS Online Backup as well. My high hopes for the file search function–with its preconfigured file extension template to help you find Office files–weren't realized. Not that the search didn't work, but simply that the company didn't take it nearly far enough. There was no Quickbooks template, template for all audio files, etc.
One option I did appreciate was "Run backups when Windows user not logged on." Many backup programs won't function when Windows is idling at the login prompt, as it often is in business environments. Backups can be scheduled or run immediately, and the company offers an UltraSafe password mode in which even SOS can't access your account information. If you use this mode, you'd better be able to remember your password, or you won't be able to access your data.
I wish I could recommend SOS Online Backup for Home Users, but most would be better served by cheaper options such as the free Mozy or Fabrik. If SOS fixes the interface problems, say by mimicking their Web site, I'd say give it a try just for its speed and stability.