The latest rumors say Apple's tablet will be fast, pricey, have a long-lasting battery and be available next February. But in what some would consider a surprise move, the tablet may run on AT&T's network. The latest rumors are based on a report from the Taiwan Economic News, which spoke to "industry sources" within Apple's supply chain.
Here are the specs, according to these rumors:
The tablet will be priced between $799 and $999, and will launch in February.
Its chipset will be designed by P.A. Semi.
It will feature a 9.6-inch touch-based display supplied by WinTek–suppliers of the iPhone and iPod Touch displays.
It will have a long-lasting battery pack to be supplied by DynaPack International Technology Corp.
It will rely on the HSDPA network for mobile connectivity.
Some of these rumors we've heard before. As Apple's fall media event approached, the tablet was pushed back from October to November, and then it wasn't expected until early 2010. The P.A. Semi chipset makes sense since Apple purchased the company in 2008, and then started recruiting chip designers earlier this year. The touchscreen rumor is in line with previous estimates that the tablet's screen would be between 7 and 10 inches.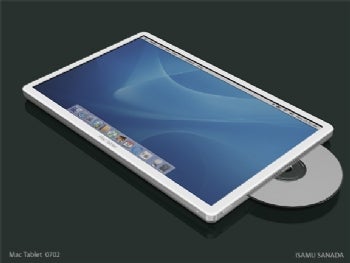 As for the battery pack, well, every company claims its batteries have long life. Taiwan Economic News says that DynaPack is contracted to produce about 300,000 batteries a month for the tablet. I'm no expert on supply chains, but that sounds like Apple expects the tablet to fly off the shelves. Who knows? Apple may even have enough supplies to meet demand, when or if the tablet ever makes an appearance.
What's really interesting, though, is the High-Speed Downlink Packet Access (HSDPA) feature that would give the tablet its 3G mobile connectivity. It was speculated the Apple tablet would run on Verizon's network. However, in the United States, only T-Mobile and AT&T use HSDPA for their 3G networks–Sprint and Verizon use EV-DO. It's possible that the tablet would go to T-Mobile, but the more likely target is AT&T.
The reasons for that are obvious: Apple is already working with AT&T as the exclusive U.S. carrier for the iPhone and the company is already investing a lot of money to upgrade its network to better serve iPhone users.
Then again, Apple teaming up with AT&T for another device would be surprising considering the complaints lodged against AT&T service, the boos and jeers AT&T has received at recent Apple events and the constant calls for Apple to make the iPhone available on other U.S. networks. Maybe the Apple-AT&T relationship is stronger than everyone expected. I guess we'll find out next year–assuming the Apple tablet exists, that is.