Google's new Fast Flip news-er interface is a bit of a puzzle. It doesn't seem very fast and also doesn't flip pages, but slides them across the screen.
I want to like anything Google does that makes life easier for readers, but Fast Flip can make news harder to access, not easier. Your experience may vary.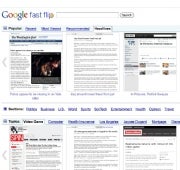 The bottom line is that some people will find it a more natural way to read their daily newspaper online, especially if they like one or more publications and want to read a number of stories from each. If you have a news destination in mind, and it's one of those Google has anointed for the beta, then Fast Flip may be just fine for you as it is.
However, if you already know–for example–that you want to look at the New York Times or the Christian Science Monitor every morning, why not do the publishers a favor and just go there? Then, you and the editors can together decide what you read, without a Google news robot getting in the way.
If you don't know what you are looking for, Fast Flip will present a number of publications at once and let you flip, er, slide through them. The idea is supposed to mimic how you might use a real newspaper or magazine. But, since my computer has a screen and isn't made of paper, the mimicry leaves a lot to be desired in terms of user experience. And the page rendering is hard on the eyes.
I found I could scan the traditional Google News home page much more quickly and see all the news–especially because I have added some custom categories–much more easily than I could mosey around Fast Flip.
I wonder if the "Fast Flip" name is supposed to convince us that the new interface is something that it really isn't–fast. Sort of like how the shortest kid on a basketball team is nicknamed "Stretch."
The good thing about Fast Flip is that it is publication oriented rather than being entirely search driven like Google News. This will solve some of the issues Gnews has with repeating the same stories over-and-over and occasionally replacing updated news with older stories that have somehow captured its robotic attention.
Fast Flip has, for now, limited itself to a fairly narrow set of partner publications. This will suck if Fast Flip becomes the standard Google newsreader and the publications you like aren't included. Fast Flip, in its current form, would seem hard-pressed to support the variety of publications that show up on the Gnews front page right now.
That can be, depending on your news consumption habits, a good or bad thing.
I encourage everyone to take a look and try Fast Flip. Send me your comments, because I'd like to calibrate my experience against yours.
David Coursey tweets as @techinciter .