Why does everyone seem to think Google's Fast Flip will save the news industry from collapsing? Looking at the site, I see only the opposite, and not just for newspapers, but for online publishers as well.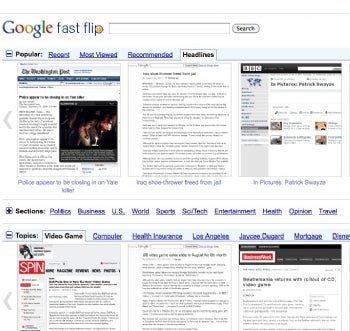 Unlike Google News, which is basically a launching pad for people to visit other Web sites, Fast Flip dominates the user experience. After clicking on an article, you don't go to that publication's Web page. Instead, you see a significant chunk of the story–five paragraphs or more, by my estimate–on Google's Web site, with Google's ads. You'll even notice that the site's own display ads are missing.
So where Google News is a traffic-generating machine for news Web sites, Fast Flip is a traffic-generating machine for Google. Call it the death of click-through rates.
Now, there's an interesting facet to this story. Krishna Bharat, a researcher for Google News, writes at the Official Google Blog that several publications have signed on for a share of Fast Flip's ad revenue. Those three dozen newspapers and magazines include the New York Times, the Atlantic, the Washington Post, Salon, Fast Company, ProPublica, and Newsweek.
Good for them. They've at least realized that you can't beat Google, so you might as well join Google. You'd be a fool to turn down a share of the search giant's ad revenue, regardless of how it compares to your own (and, admittedly, I don't know the details on that). Still, three dozen publications is not many, so unless Google is prepared to do significantly more deals, a lot of publishers will be left out in the cold.
There is a positive in here for journalism. Fast Flip's very nature rewards click-throughs to stories that are interesting beyond a few paragraphs. In other words, substantive, in-depth writing will draw more eyeballs than sensational, headline-based journalism–at least in theory. Then again, if the click-through rate dies by Fast Flip's hand, additional visitors to a site won't matter much.
Whether Fast Flip will be a success is still up for debate, but it's already kind of scary that so many online publications rely on Google News for traffic. It'll be even scarier when they're turning directly to Google for revenue. I can't imagine too many publishers looking forward to that.