It is hard to think of a valid reason for Microsoft's new Zune HD media player to exist. Not that it isn't feature, spec and price competitive with Apple's iPod, it's just that being competitive isn't enough.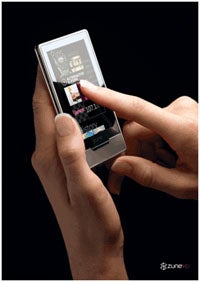 Microsoft needs a decisive win across the field of the media player battle and has little hope of achieving one. Not in the next few years.
It's not that I love my iPod so much–and even with my iPhone I still use an iPod occasionally–but the Zune has never gotten me very interested. And I buy almost everything–but never once a Zune.
I will stipulate for this discussion that the Zune is as nice a piece of hardware as an iPod. And probably has been for a while. Each seems to have a few feature or specification "wins" but neither knocks the other out.
Zune, however, clearly loses on ecosystem, at which Apple excels. If you want access to the most content and applications, the best accessories, there is simply no comparison between Zune and iPod.
As a desktop application, iTunes cannot be beat. Windows Media Player has lost ground and seems unable to gain it back.
So, regardless of how well Microsoft–or any competitors–does with hardware, Apple has such an embedded advantage that it will win in the marketplace.
I have previously suggested that Apple should be required to open its music store and iTunes software to other vendors' hardware. That would neutralize the desktop app and access to content as a major differentiator.
Given a more level playing field, other music players and smart phones, I am thinking Microsoft Zune and Palm Pre, could compete on their individual merits rather than against everything Apple has achieved.
Had Microsoft found the market position Apple enjoys there would have long ago been an investigation into its effect on competition. Apple has played the underdog card so well–and for so long–that regulators are just beginning to change their sights from Redmond to Cupertino.
Harry McCracken has done a Zune hands-on and it does sound like a nice device. However, in the world of music players, being nice is, well, nice. Winning requires competition at a different level–and one only Apple has conquered.
Sorry, Zune.
P.S. I do not mean this post as a slam against the talented people at Microsoft who created, market, do whatever, with Zune HD. It looks like a great product, but a great product isn't enough anymore. It is, however, the very best place to start. Go kill Apple, make us proud.
David Coursey tweets as @techinciter and can be contacted via his Web page.