If you're thinking of buying an e-reader such as Amazon's popular Kindle 2 you might want to wait. An impending e-reader war will give you a bevy of new models to consider, at lower price points, and offer some interesting new e-book hardware designs.
A handful of companies, including Asus, Plastic Logic, and a British start-up named Interead, are planning new devices intended to get you hooked on digitized books and newspapers. Prices of new models are expected to range between $165 and $400, compared to the Kindle DX that sells for $490 and the Kindle 2 at $300.
Buyer beware, however, when it comes to competing e-books. Competition is great, but it also could lead to compatibility issues between e-book readers. For example books and periodical subscriptions you buy through Amazon.com's online Kindle store are not currently compatible with another reader. Want-to-be e-book owners will want to pay close attention to the file formats and digital rights management (DRM) supported by each reader and consider the breadth of online bookstores the e-book reader is bragging about before buying.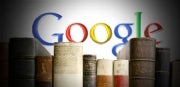 Another development to watch is Google's role in the e-book space. A battle has erupted over Google's scanning of millions of out-of-print books, which it wants to make available through Google Book Search for e-book readers. Amazon doesn't want Google to do this, out of concern that Google's deal makes it difficult for other e-book sellers (i.e., Amazon) to scan and distribute the "orphaned" books themselves. Sony, meanwhile supports Google's efforts, and has already inked a separate deal to distribute public domain books that Google has digitized.
With a glut of new e-readers set to arrive over the next year, a market once dominated by Amazon will soon look a lot more interesting. Sony (which recently began shipping its newest Digital Reader models), Asus, Plastic Logic, and Interead all believe they hold the key to popularizing the digital reader. Interead's founder Neil Jones even called its product the "iPod moment."
Some of these devices, such as the Cool-er, may be available in time for holiday season. You'll have to wait for other e-readers expected early 2010. Still I wouldn't be surprised to see new entrants along the way. For now, here's a look at what's available now and what's coming down the pike.
The Asus E-Reader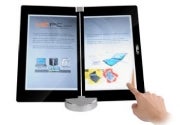 Specs: Available details remain minimal, but we know Asus is working on two e-readers, one of which will have two touch screens that open up like a book.
Defining characteristics: The dual screen model will certainly excite dedicated e-reader users, especially with possible extra features such as speakers, a webcam and a microphone for Skype. _hinged_screens.html">Asus is also planning a cheaper, more basic model that's expected to undercut the competition on price.
Price and availability: The budget model could cost as little as $165. Pricing on the premium model is unknown. An Asus representative tells us to expect the e-readers in 2010.
The Plastic Logic Reader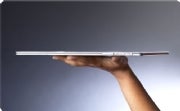 Specs: Exact screen size and capacity are unknown, but the device should resemble an 8.5-by-11-inch notepad.
Defining characteristics: The reader's size could raise eyebrows, and so could Plastic Logic's partnership with Barnes & Noble, which, along with AT&T, will offer a cloud storefront. It's also focused towards business professionals, as Plastic Logic notes that the reader is "lighter than most business periodicals" at a quarter-inch thick. More info.. there has got to be bit more…
Price and availability: Plastic Logic says it will release the reader in test groups late this year, with mass market sales beginning in 2010.
Interead's Cool-er Reader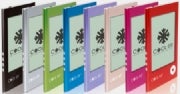 Specs: 6-inch E-ink screen, 1 GB of storage, plus a 4 GB SD card slot
Defining characteristics: It's competitive on price (see below), comes in lots of colors, and weighs 6.3 ounces, making it half as heavy as some other readers. The Cool-er also supports the open ePub format, so while you can't download books from Amazon, you'll have no problem transferring these to another ePub-friendly device if ever want a fancier e-reader. Cool-er doesn't have integrated wireless connection, but you can buy and download books from its e-book storefront, Cooler Books.
Price and availability: $315 in the United Kingdom, the company expects it to sell for $249 in the U.S.
Sony's Digital Reader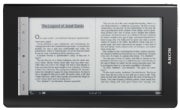 Specs: The Reader Pocket, Touch and Daily Editions have 5 x 6 x 7-inch screens, respectively. The Pocket and Touch has 512MB in storage (for roughly 350 books), while the Reader Daily Edition holds 1000 books, has expandable memory and includes 3G connectivity for downloading new books.
Defining characteristics: The two higher end models, the Touch and Daily Editions (PRS-600 and PRS-2121) have touch screens, and all three let you check out books through public libraries. Additionally, Sony's embrace of the open ePub format could provide a competitive edge.
Price and availability: The Reader Pocket (PRS-300) and Reader Touch (PRS-600) Editions are out now for $199 and $299, respectively. The Reader Daily Edition (PRS-2121) will cost $399 when it ships in December.
Amazon's Kindle 2 and Kindle DX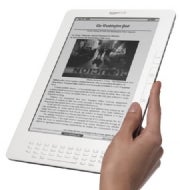 Specs: The Kindle 2 has a 6-inch screen and 2GB of storage. The Kindle DX doubles the capacity to 4GB and ups the screen size to 9.7 inches.
Defining characteristics: Both Kindles let you download books wirelessly with 3G connectivity — a feature that remains unique in e-readers, for now– and include text-to-speech for when you just want to listen. It also helps that Amazon's Kindle have brand recognition, which could make them a sure bet for prospective e-book buyers.
Price and availability: The Kindle 2 costs $300 and the Kindle DX costs $490. Both are available now.
Surely, the publishing industry loves the e-reader competition, as it'll break up the e-book distribution monopoly Amazon has built thus far. But for consumers, the biggest advantage to the upcoming e-book glut will be lower prices and more options. The war can't come soon enough.