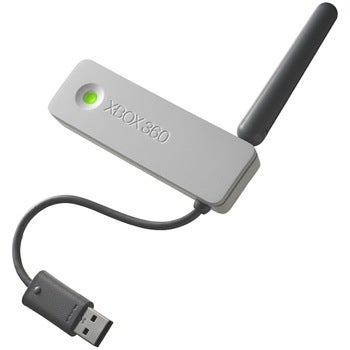 Wouldn't it be nice if Microsoft admitted it was gouging consumers by charging $100 for an otherwise unremarkable wireless 802.11g USB adapter? What'd be even nicer: Besides an integrated version in its freshly price-adjusted $300 Xbox 360 Elite, how about a wireless 802.11n USB adapter for $40 or less?
Engadget thinks it has pictures of the 802.11n part–a little black rabbity looking rectangle with an incriminating label that identifies it as the 'n' iteration of the 802.11 spec. That means it'd run at up to 160Mbps, another meaningless maximum you'd never achieve due (among other things) to the chug-a-lugging hard drive's chokehold. Still, 802.11n could see you future-proofed for the inevitable Xbox 360 500GB solid-state drive. I won't guess what that'll cost you in Xbox 360 peripheral dollars.
How overpriced is the current 802.11g part? Put it this way. I just bought a Hawking Hi-Gain Wireless-N Network USB Adapter for my MacBook Pro–a part that's boosted my ability to hone in on signals by at least 100 feet–for $60. You can get most USB 802.11n parts, with or without an external antenna, for somewhere in the $13 to $30 range.
Say what you will, wireless matters. My Xbox 360 hasn't been in sighting range of an Ethernet cable since I bought it. I know some of you swear by Ethernet–I have a friend who was at one point running a monstrously long one out of his bedroom, down the hallway, around his living room, and up to the back of his entertainment center–but if I had to bet who's using what, I'd say over half of you dropped $100 on the adapter. Sooner or later you want the flexibility. How many of you have your cable or DSL boxes squatting in your living room (as opposed to the office, tucked away somewhere out of sight)? I'm betting not that many.
As for the $40 part, you'll have to bug Microsoft, because that's probably wishful thinking on my part. Assuming the 802.11n part's for really-real, something tells me we'll have to pay $100 or more–all for the privilege of owning what amounts to a letter further down the IEEE's syllabary.