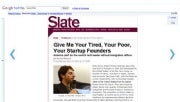 Google Labs unveiled an innovative new tool called Fast Flip. At first glance it appears similar to Bing Visual Search which was also unleashed yesterday. However, snazzy interface aside, Fast Flip isn't about eye candy or changing the way users search. Fast Flip is about helping print media adapt to the Internet age (and making a few dollars in the process).
Google has teamed up with 36 publishers for the initial rollout. Users who visit the Fast Flip site are greeted with large thumbnail images of various articles sorted by their source, topic, or current popularity. That initial page seems at least a little like Bing Visual Search, but the similarities end there.
Once you click on an article Fast Flip lets you flip through the pages as if you were flipping through a traditional print magazine or newspaper. Google feels that recreating the print media experience online will attract more readers and help its partner publishers transition more smoothly to delivering information over the Internet.
Fast Flip is not an experiment in altruism though. Google plans to make money and share that revenue with the publishers it partners with. Fast Flip pages are not bogged down with multimedia content and multiple ad banners. They are streamlined to load quickly (hence the "fast" part of Fast Flip).
Presenting fewer elements reduces the number of opportunities for generating revenue on a single page, but enabling users to quickly browse from page to page, and hopefully keeping the user's attention longer in the process, has the potential to yield more ad revenue overall. The benefit to the publishers participating in Fast Flip is that they get to share that revenue.
The concept of "recreating" the print media experience online triggers my "fake meat" alert. I have never understood the idea of garden burgers or tofu corn dogs for vegetarians. I maintain that if you wanted to eat a hamburger, you should not be vegetarian and just the eat the thick, hot, juicy, dripping in grease, covered in melted cheese…I digress.
My point is that vegetarians should be comfortable being vegetarians and not try to "emulate" being meat eaters. Similarly, one could argue that Internet media should be Internet media and not try to "emulate" the print media experience.
However, the upcoming Asus Eee Reader delivers that same sort of emulated experience and I have to admit that I find that appealing. Maybe I should give those tofu dogs a try? Nah. You have to draw the line somewhere.
Perhaps I betray my age by appreciating Fast Flip or the Asus Eee Reader. Maybe the Millennials (Generation Y) and generations beyond them are already so digitized that they don't need to 'recreate' the print media experience. They get their news in 140 character increments from sources like Twitter.
For the millions of Baby Boomers and Generation X'ers though, Google Fast Flip fills a cognitive need and bridges the gap between traditional print magazines and newspapers, and how that same information is consumed online.
It doesn't hurt that Google Fast Flip also represents a way for Google to partner with traditional print media resources and provide a revenue lifeline that may help at least some of them survive the print-to-digital assimilation at the same time.
Tony Bradley is an information security and unified communications expert with more than a decade of enterprise IT experience. He tweets as @PCSecurityNews and provides tips, advice and reviews on information security and unified communications technologies on his site at tonybradley.com.