Facebook launched a new applications feature late Tuesday that will let you test the latest tools the social network is working on. Called Facebook Prototypes, it's similar to Google Labs as it allows you to try out new features that, as Facebook says, are "not quite ready for prime time, are a bit esoteric, or don't quite fit."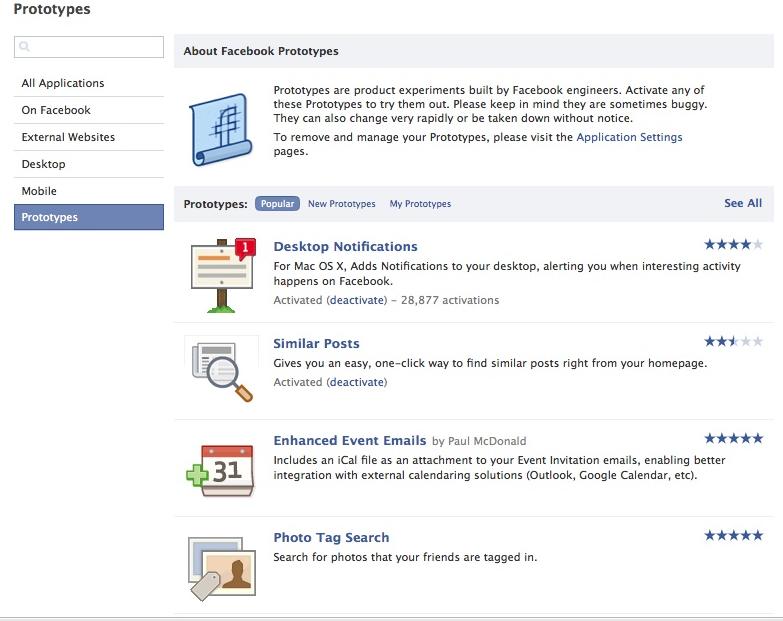 There are five new features currently available, most of which were created during a recent Facebook Hackathon event — an all-night coding session where Facebook techies work on projects they don't have time to develop during regular business hours. Here's a breakdown of the five features you can try out:
Desktop Notifications (Mac OS X only): A Mac OS X growl notification app that sits on your menu bar and alerts you when someone writes on your Facebook Wall or sends you a message. You can also update your Facebook status within the application or navigate directly to your profile, News Feed, or Compose Message window.
Enhanced Event E-mails: Adds an iCal file to event notifications sent to your Facebook friends via regular e-mail. With one click, your friends can add the event to their personal calendar program like Google Calendar, Microsoft Outlook, or iCal. For this feature to work, your friends must have event e-mail notifications enabled in their Facebook account settings.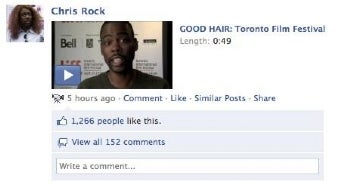 Similar Posts: Adds a "Similar Posts" tag under posts in your News Feed, such as status updates, shared links, and videos. Click on the tag and Facebook will try to find other News Feed posts with similar attributes.
Photo Tag Search: Integrated into the Facebook photo dashboard, Photo Tag Search lets you search photos posted by you and your friends for up to 15 people at once. Say you want to find a photo of you and three friends. Plug your name and your friends' names into the search bar, and Facebook will show you all the photos where all of you are tagged. This feature will only find photo tags for people you're connected to on Facebook.
Recent Comments Filter: Places a "comments" button on the column to the left of your News Feed. Click on it, and your News Feed will show the most recent Facebook posts your friends have been commenting on.
The Prototype applications include several great features, and while some of them are a little rough, they do add great functionality to your Facebook experience. If you're on Mac OS X, I highly recommend trying out the Desktop Notifications app. Sometimes it inexplicably asks you for your login credentials, but it's a great little program if you want to stay on top of Facebook without logging on to the service.
To activate the prototypes, click on the Facebook Applications page and then click on 'Prototype' in the left hand column.
Connect with Ian Paul on Twitter (@ianpaul).