Good news for Yahoo Mail users: If you've had trouble sending large files, help is at hand. A new Drop.io application lets you send attachments as large as 100MB.
By default, Yahoo allows attachments no larger than 25MB. That's pretty decent, but it probably won't cover a video, big batch of photos, or the like.
Enter Drop.io, one of my favorite file-sharing services. When you sign into your Yahoo account, look for Drop.io's new Attach Large Files option in the Applications box. Give a click and follow the instructions to select your file(s) and compose your message to go with it.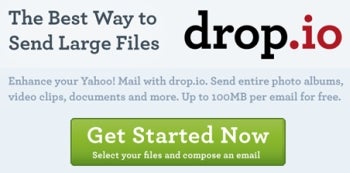 Don't worry about the clogging up your recipient's inbox with your mammoth attachment: Drop.io doesn't send the actual file, but rather a link to where it can be downloaded.
There's no cost to use this new Attach Large Files option, and you don't even have to register with Drop.io.
By the same token, you needn't be a Yahoo user to take advantage of the service. Drop.io lets anybody set up "drops"–files hosted online–to share with others. It's a killer tool, one I can't recommend highly enough.