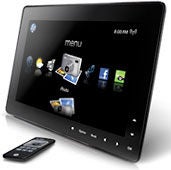 HP is taking the digital photo frame to new heights with its HP DreamScreen line of smart displays that do way more than just let you browse pretty pictures. The DreamScreen, announced Wednesday, is a beautiful smart display that comes in two sizes (10- and 13-inches diagonally). They link wirelessly to the Internet and can display pictures, five-day weather forecasts, Facebook friend updates, and the Pandora music service. The displays also can be linked to your desktop so you can easily put multimedia content directly on them.
Available today online, the HP DreamScreen will run you $250 for the 100 model and $300 for the 130 model. HP says DreamScreens will be in brick-and-mortar retail stores on October 11.
I checked out the HP DreamScreens last night at an industry event in New York and wouldn't exactly call them a "dream." The DreamScreen may look like slick tablet computers that people have been salivating for, but these are just very expensive and very smart displays that lack the key features — such as a touch screen interface and true portability — that could make them breakthrough products.
I'll get into my beefs with DreamScreen after I break down the specs.
A Digital Photo Frame to Die For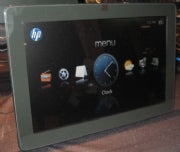 The 130 DreamScreen model has a 13.3-inch display that offers a 16:9 ratio and a resolution of 800 by 480. The 100 unit has a 10.2-inch diagonal display. Both units sport 2GB (1.5GB usable space) of memory, have twoUSB ports, headphone output for external speakers, built-in stereo speakers, ethernet jack, and a 802.11 b/g wireless antenna. Both units have built-in 6-in-2 card readers that can accept CF and SD cards.
The USB port allows you to connect a thumb drive or external hard drive. The DreamScreen can also play videos (MPEG1, MPEG2, MPEG4, H.264) and music (MP3, WMA, AAC, WAV). Software for a PC allows you to add content to the frame.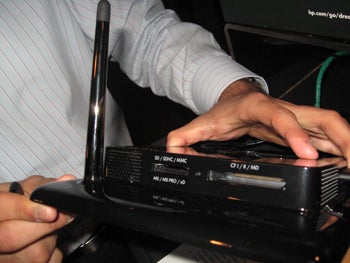 You navigate the device using a tiny remote control or via controls built into the hardware. Applications include access to HP's SnapFish online photo service; a custom version of Facebook for viewing friends, status updates, and photos; access to Pandora music streaming service; HP's own HP SmartRadio service; and a clock.
The DreamScreen some with wall mounts on the back or can be set on a table. It lacks a battery, so it must stay plugged in at all times.
What's Not to Like?
My biggest beef with the DreamScreen is that you want it to be a touchscreen device — and it's not. Last night, nearly everyone who looked at the DreamScreen tried to touch the screen to navigate it. The DreamScreens run an embedded version of Linux that lacks the ability to do much more than run pre-canned HP applications specially designed for the devices. Right now, there are only eight applications, though HP representatives say that number could be expanded soon.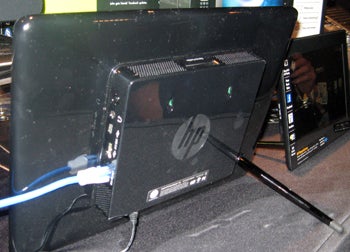 I like the idea of having a limited functioning device, but some basic functions are missing. You can't check e-mail or browse news headlines, for example. I get that HP is not just creating a touchscreen computer with this device; if I wanted one of those, I could plop down $1400 for HP's TouchSmart IQ800t. However, I still craved an RSS display and simple messaging notification (be it e-mail, SMS text, or IM). Okay, so responding to messages would be an issue on the DreamScreen, but at least you'd know new messages were there.
Also lacking from the DreamScreen is the capability to view Web-based video content from services such as YouTube and Hulu. E-mail, video, and RSS feeds would all be possible without having to embed a full-fledge OS into the device if HP decided to give the DreamScreen a simple browser. It didn't.
Another missing feature is the capability to stream video and auido files from your PC, which would eliminate the need to run them locally on the DreamScreen. Ideally you'd be able to navigate libraries of content on your desktop PC or NAS device and playback through the DreamScreen. Right now you can't.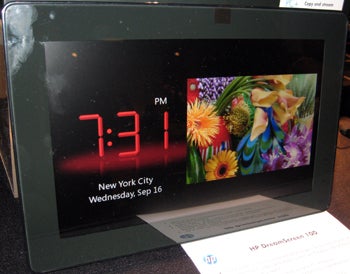 Another temptation with this device is to pick it up as if it were a sleek portable tablet. Want to take that video you're watching into the kitchen? You can't do it without unplugging the device. Even if you don't mind plugging it in everywhere you go, the DreamScreen sports some bulky hardware on its backside, making it less than ideal for porting from room to room. Once you find a home for this unit, it will most likely stay there.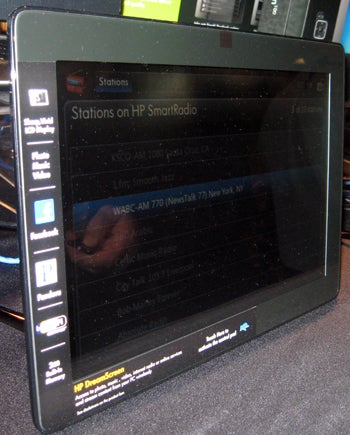 Now, I'm not going to be popular with HP's Ameer Karim, director of product marketing. On Wednesday night he told me people just don't want this type of functionality I want from the DreamScreen.
I readily admit I may be suffering from Apple tablet envy, where I think that everything that kind of looks like a tablet should be a table. But the DreamScreen, for me, is stuck in tablet purgatory. It's not quite the tablet I want it to be and too expensive to justify as a replacement for the digital picture frame I never use.