Nowadays, I bounce between two different worlds in e-mail. In one, I support and work in an Exchange/Outlook environment, and in the other I manage my non-corporate life using Gmail. While I like Outlook, its old-school design can be a bit frustrating to me. To be precise, I'm annoyed that Microsoft has yet to implement conversation threading into its flagship mail client.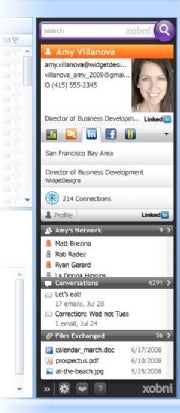 This is precisely why I'm thrilled with Xobni. Xobni is an Outlook plug-in, which vastly extends the functionality of Outlook. Not only does it organize e-mails into threaded conversations, but it is an incredibly useful contact and e-mail management tool. It pulls contact information from several different sources, including your database of Outlook e-mails, Linked-In profiles, Facebook, Hoovers, and Yahoo mail. Xobni is available in both a free version and a $30 Plus version.
At the very top, you'll notice a search bar. This does exactly what you'd expect. Type in the contact or text you want to locate and Xobni will find it nearly instantly. The search feature in the free product is effective, yet stripped to the bare minimum as to nudge people towards the $30 Xobni Plus product which implements advanced search features.
Below the search bar is the very basis for Xobni. You'll find an information profile created for each person you communicate with. This is automatic for every individual with whom you exchange e-mail. If there is a phone number, address, or company name in an e-mail from a contact, that contact's information profile automatically gets populated. It's the same thing if one of your contact's e-mail addresses matches a profile on Facebook, Yahoo or Linked-In. Company information is automatically pulled from Hoovers.
Just below the contact window are icons for Contact Statistics, Xobni Actions, and the social networking sites. Contact statistics features a graph showing what times people send you e-mail so you can quickly identify when it's best to contact them. Additionally it ranks that person with regards to the number of e-mails exchanged and displays the balance between sent and received e-mails.
Xobni Actions supplies you with quick temples for asking a contact for their phone number or to schedule a meeting. Icons for Linked-In, Facebook, and Hoovers allow you to quickly pull information from these sites including Facebook updates.
Moving down the sidebar, next we find the network associated with the active contact. In essence, this network is a grouping of the people frequently included on the e-mails you exchange with a particular contact.
Below network, you'll find a list of threaded conversations you've had with the active contact. You can click on a conversation to read it or mouse over to get a quick overview. Reading e-mail in the form of threads is much more intuitive than trying to connect the dots with a series of disparate emails.
Finally, you find a list of files exchanged with the active contact. I really like this part. I can remember many instances when I've had to go on extended hunts through my mail history trying to find attachments. It's a nice feature to have them available right at your fingertips where they're easy to find.
One feature that is omitted from the free version of Xobni is Rank- Powered AutoSuggest. You've probably noticed that when you're typing an email address in a new e-mail that Outlook will suggest names of people you've mailed in the past. With Xobni Plus, this functionality is extended to all contacts in your Xobni database which includes people who you've never e-mailed. It can also generate suggestions based on company name and other attributes.
Xobni's biggest drawback is that it badly clutters up the mail view. Having the navigation pane, the preview pane, Xobni, and my To-Do Bar all up simultaneously makes my 14-inch laptop screen downright busy. However, the Xobni sidebar can easily be minimized to use but a small sliver of space. Aesthetically, the bold contrasty colors of Xobni don't really blend in with the look and feel of Outlook. I'm splitting hairs of course because this is a powerhouse of an app.
I'm generally impressed with the way Xobni aggregates information from so many different sources. This is all information you've had all along, but Xobni simply provides an intelligent way of making it instantly accessible.
Michael Scalisi is an IT manager based in Alameda, California.