Microsoft has kicked off the Technical Preview of Office Web Apps, and I've been testing out the tools to see what Microsoft has come up with. One of the primary advantages of working with Microsoft Office applications in the cloud is the ability to access and work with documents, spreadsheets, presentations, and notebooks from any Web-enabled PC, from anywhere in the world. As long as you store your files on SkyDrive, you can travel without a laptop and still have access to your data.
An even greater benefit of working through the cloud is that you can share files and collaborate with anyone else in the world. After all, the Web is the cloud, and the Web is a platform for sharing information–generally in the form of Web pages.
The fact that files and data reside in the cloud rather than within a firewalled network or on a user's local hard drive means that anyone can share and access the files.
The default folder structure on SkyDrive is similar to what users see in Windows Vista and Windows 7. You get a My Documents folder, which would ostensibly hold most of your data, along with a Public folder, where you store the files you want to share.

By default the Public folder allows everyone to view files but restricts users from modifying or deleting files. Because it is the Public folder, you cannot modify those permissions.
You can share a file in the Public folder by selecting the file and then clicking More to produce a drop-down menu with Copy, Rename, or Share options. When you select Share, you can choose either to e-mail an invitation link to specific users or to embed code in a Web page that will display the shared file.
If you decide to e-mail a link, you can then select from contacts associated with your Windows Live account, or manually add e-mail addresses. The invitation e-mail sent to the designated users includes a link for them to view the file.
Using the HTML code to embed the file in a Web site will display an icon of the file on the Web page, which users can click on to access the file from its location in the SkyDrive Public folder. One advantage to embedding the data like this is that you can modify or update the file, and visitors to the Web site will always see the current version.
For the My Documents folder, or any folders you create, you can customize access through options labeled Just Me, Everyone, My Network (which includes every contact you have in Windows Live), or Select People. If you choose Select People, you then see a wider range of options, including the ability to designate access based on Groups you have created within your contacts, or the ability to add users one at a time by typing their e-mail address. Note that the e-mail address in question has to be associated with a Windows Live account for the user to access the data.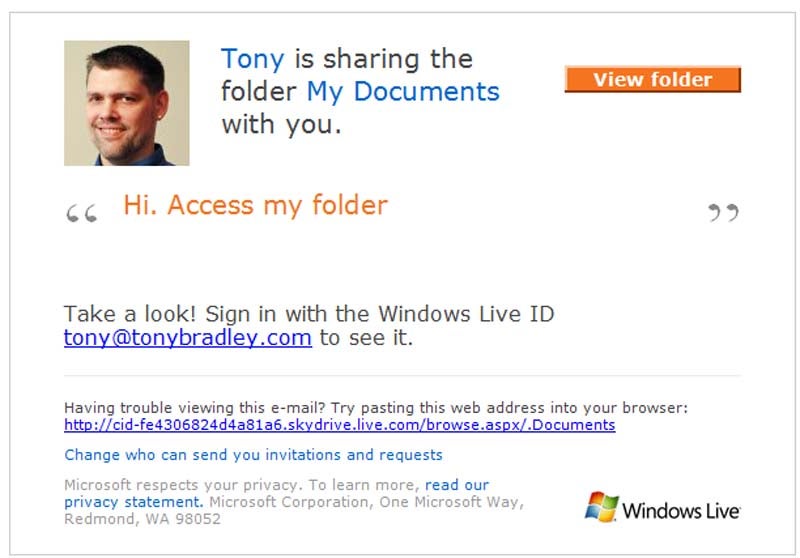 For each group or individual you select, you can allow them only to view files, or you can grant more powerful access such as the ability to add, edit, and delete files. You can have an e-mail invitation sent out to those designated with access.
The ability to access files in the cloud and share that access with others is not new: Those features are a function of SkyDrive and have been available for some time. What is new, however, is that users will be able to view the files regardless of whether they have the associated Microsoft Office applications installed, and each file will render exactly as the user would see it if they were opening the file in its native application.
Where Office Web Apps really changes sharing and collaboration is in the ability of multiple users to access and work with the same file at the same time in Excel or OneNote. The OneNote application is not yet available in the Technical Preview, but I was able to work with the real-time collaboration feature in Excel.
My editor (the person I was sharing the file with) and I were able to access the Excel spreadsheet simultaneously. Each of us edited fields and could see what the other person was typing in real time. The ability to work with Excel spreadsheets and OneNote notebooks in this way–collaborating with peers or customers in real time via the cloud–is a definite productivity booster.
Working through the permissions and granting access to invite participants was not as intuitive or user-friendly as I would like. Ultimately, though, it's not the ability to share data in the cloud that is impressive, but the ability to interact with that data through the Office Web Apps applications.
Want to see more of the Microsoft Office Web Apps? Take a closer look at the Excel Web App and the PowerPoint Web App. At press time, Word and OneNote were not yet fully functional.
Tony Bradley is an information security and unified communications expert with more than a decade of enterprise IT experience. He tweets as @PCSecurityNews and provides tips, advice, and reviews on information security and unified communications technologies on his site at tonybradley.com.
When you purchase through links in our articles, we may earn a small commission. This doesn't affect our editorial independence.