4G World Conference, Chicago – A Sprint exec speaking here today used AT&T as the poster child for 3G wireless networks that can't keep up with the increasing data demands of smartphone users.

Sprint's president of corporate initiatives and CDMA, Keith Cowan, set up the punch line with a couple of interesting statistics about the increasing demands placed on wireless networks. He first cited ComScore's observation that mobile broadband use has increased 71 percent from January 2008 to January 2009. He cited another report saying that the number of people doing social networking on mobile devices will increase to 730 million in 2013, from 54 million in 2008.
Then: "It's also clear that 3G can't do it, as AT&T is quickly learning," Cowan said during his keynote. Cowan was referring to user and media reports of slow and/or unreliable AT&T 3G service for the iPhone.
Cowan said poor network performance can take the fun out of even the funnest device. "As our friends at AT&T are learning, it doesn't matter to consumers if they have the coolest device if the network is so jammed up that it is virtually useless."
In PC World's own 13-city 3G performance testing, which took place in March and April, the AT&T network scored an average reliability of just 68 percent across 13 wireless markets. Competing 3G services from Sprint and Verizon had average reliability scores of around 90 percent in the same markets. A September 1 New York Times story seemed to suggest that AT&T's network challenges are mostly confined to New York City and San Francisco, where a proportionately higher number of iPhones rely on the network.
For months, the tech media has been increasingly critical of AT&T and Apple, over everything from network performance issues to AT&T's no-tethering policy to the recent non-admittance of the Google Voice app into the iPhone app store.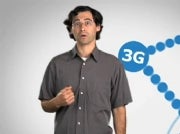 Two days after the New York Times article came out, AT&T released a carefully-produced video, that, while ostensibly announcing AT&T's new MMS service, spent most of its time acknowledging criticism of the AT&T 3G network, and explainig its efforts to beef the thing up to better support data-hungry smartphones like the iPhone. While the video never exactly admitted any AT&T shortcomings, it smacked of damage control.
Nobody, an AT&T spokesperson told me, could have predicted the wild popularity of the iPhone, or the massive amounts of data iPhone owners would use.
Of course Sprint's Cowan was only using the AT&T 3G network as a whipping boy to make the pitch for his own company's 4G network offering. Sprint is rolling out 4G WiMax service over the Clearwire network, which the companies say will be available in 80 cities by the end of 2010.
But Cowan's stats say more about the need for 4G–now–than they do about any one company's offering. Sprint and Clearwire are the first to sell 4G service in the US, and that's important. Hopefully AT&T is being motivated by Sprint's and Clearwire's speed to market–and its own need to provide more bandwidth and reliability to iPhone users–to accelerate its own move to 4G.
But, alas, what I'm hearing here today is that 4G's "big year" won't come until 2011.