You will soon be able to print your own copy of rare and hard-to-find books thanks to a deal between Google and On Demand Books, the maker of the Espresso Book Machine. Dubbed the "ATM for books," the Espresso Book Machine can print a "library quality" paperback book in less than five minutes for "under a penny a page," according to the manufacturer.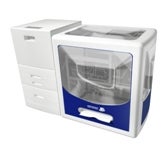 On Demand's deal with Google puts approximately two million public domain books from Google's digitized book collection–Google Books–into Espresso Book Machines, which you could then print off at your local library, bookstore, or coffee shop.
There's no official word on how much a single book will cost, but the Associated Press is reporting the average price will be about $8. Google and On Demand Books will each take a dollar from every transaction, and donate the rest of the proceeds to charity, the AP says.
Google's book catalog made available on the EBM will include only books that are in the public domain, and therefore not protected by copyright. This collection include titles like Homer's Odyssey and Grimm's Fairy Tales, but is largely made of up obscure books like Characteristic Anecdotes of Men of Learning and Genius: natives of Great Britain and Ireland During the Three Last Centuries Indicative of their Manners, Opinions, Habits and Peculiarities, Interspersed with Reflections and Historical Literary Illustrations, by John Watkins.
In the future, Google may be able to add more popular titles to the EBM depending on the outcome of a Department of Justice inquiry launched earlier this year. The DOJ inquiry is designed to give authors and publishers more time to study a settlement that would allow Google to digitize and distribute books that are out-of-print, but still covered by copyright protection. Under the deal, Google would share revenue from any book sales with the rights holders.
Thursday's Google and On Demand Books deal is a perfect example of how technology can revive content that would be impossible to reproduce through traditional publishing channels. The only problem is that Espresso Book Machines are even harder to find than some of the titles Google has made available.
There are about 14 EBMs in permanent locations around the world, only five of which are in the United States. Current locations include San Francisco; New Orleans; Ann Arbor; Manchester Center, Vermont; and Provo, Utah; another eight EBMs are coming to U.S. locations by the end of the year, according to On Demand Books' Website.