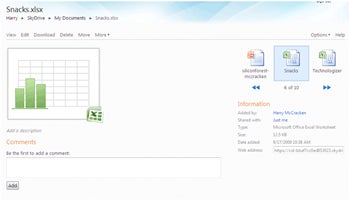 Microsoft has opened up a sneak peek at the Technical Preview of the upcoming Office Web Apps, and you can take it for a spin. Using the cloud-based SkyDrive storage as a backbone, Microsoft Office Web Apps enables to access and work with Word, Excel, PowerPoint, and OneNote files using any (compatible) Web browser from any Internet-connected device in the world.
The Office Web Apps components do not have the same comprehensive feature sets of their Microsoft Office desktop suite peers, but they provide a platform for creating and editing basic files via the Web. Microsoft has developed Office Web Apps to ensure that Office documents render accurately in browsers-even mobile device browsers-without data loss or formatting issues.
Users who have the Microsoft Office applications installed locally on their computer can save directly to the SkyDrive storage or open files directly from the cloud within Office 2010 applications (via Backstage).
Office Web Apps supports Internet Explorer, Firefox, and Safari web browsers. Chrome and Opera are missing from that list, but Chrome and Opera combined have less than 5 percent of the browser market combined so that isn't a huge loss.
The Office Web Apps tools may very well work just fine in Chrome, Opera, or other browsers, but Microsoft hasn't gone out of its way to develop for those platforms or test them to ensure compatibility. Files may not render properly on untested Web browsers and the consistency of the Office experience can't be guaranteed.
Do you want to check it out for yourself? Just go to skydrive.live.com. You will need a Windows Live ID to log in to SkyDrive (you can sign up for it from the SkyDrive login page).
Once you are logged in to SkyDrive, click on the My Documents folder. If you don't have any files stored in your SkyDrive My Documents folder yet, upload a Microsoft Word, PowerPoint, or Excel file. After there are files present in the folder you will see a blue bar across the top of the files with a link to "Join our preview program".
Click that link. Make sure you don't click the 'X' on the right side of that bar or you will shut the bar down and abort the invitation to join the Technical Preview.
After you click the link you will be presented with the Microsoft Service Agreement (for Windows Live). Read that agreement and click Accept to agree to the terms and you are ready to rock!
For a more detailed look at some of the key functions and applications in Office Web Apps check out these additional resources:
· Microsoft Office Web Apps: First Look. An overview of Microsoft Office Web Apps and some of the key features.
· Microsoft Office 2010: A First Look at Excel Web App. Walk through creating an Excel workbook using Office Web Apps
· Microsoft Office 2010: A First Look at PowerPoint Web App. Creating a PowerPoint presentation using Office Web Apps
· Sharing and Collaborating with Microsoft Office Web Apps. A hands-on look at sharing information and collaborating in real-time with Office Web Apps.
Tony Bradley is an information security and unified communications expert with more than a decade of enterprise IT experience. He tweets as @PCSecurityNews and provides tips, advice and reviews on information security and unified communications technologies on his site at tonybradley.com.