Rumors of a Microsoft-branded multimedia handsets and a tablet PC have resurfaced in a big way with fresh details. Reports are swirling in the blogosphere, fed by tips from anonymous sources and curious Microsoft job listings.
Project Pink
When we first heard about Project Pink back in April, it was rumored to be a Windows Mobile-based phone meant to compete directly with Apple's iPhone. But now there is speculation Pink could either be one handset or possibly two devices–codenamed 'Turtle' and 'Pure,' according to Engadget. There is a theory that Pink may only be a basic phone design that will be farmed out to manufacturers who can tweak the design and then slap the Microsoft name on the device.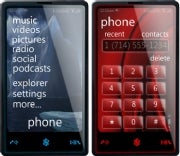 The new Microsoft-branded phones could also be slider handsets inspired by the Sidekick. Microsoft acquired Danger, the maker of the Sidekick, last year and the Danger team that came to Microsoft is leading Project Pink development. Pink software is reportedly based on the yet-to-be-released Windows Mobile 7.
The big question about Pink is whether a slider phone can compete against the touchscreen wonder that is the iPhone. ZDNet's Mary-Jo Foley says Pink will access the Zune's online store for purchasing music and video just like the iPhone can, but there's no word on whether Pink would equal the iPhone's catalog of third-party applications and games.
Another tidbit from Foley is her assertion that Microsoft will get out of the Zune manufacturing business in the coming years, as the Zune project morphs into a set of software services that manufacturers can install on third-party devices. Considering Microsoft's focus on software businesses, a change like that would make sense.
Tablet PC
The tablet PC has never really taken off, but Microsoft may take another stab at a touchscreen tablet based on its Surface project. Microsoft Surface is a large touch-sensitive display that can be implimented as a wall, tabletop or even a sphere. With Apple's rumored Web tablet reportedly coming soon, Microsoft may be uniquely positioned to compete against Apple's rumored touchscreen device, thanks to its previous experiences with Surface and tablet PC software.
For now, there's not much more to say other than Microsoft is said to be waiting for Apple to show off its tablet before Redmond launches its own product.
Which do you think will be more popular an Apple tablet or Microsoft mini-Surface?