Networking isn't just for business anymore–these days, home networks are the norm. In response, Microsoft is offering the Windows 7 Family Pack, which includes three licenses for Windows 7 Home Premium at a discounted price.
The multilicense bundle isn't Microsoft's only move: In Windows 7 the company has made networking home PCs and sharing their files and folders much simpler. Whether you need to connect to the network, to share printers and resources, to access and play music, or to do anything else across the network, Windows 7 makes the entire process more seamless and intuitive than it was in either Windows Vista or Windows XP.
Managing Network Connections
In Windows 7, Microsoft has improved the Network and Sharing Center (introduced in Windows Vista) to provide greater functionality and make it the go-to place for managing all aspects of network connectivity.
The Network and Sharing Center–which is available in the Windows 7 Starter, Home Premium, Professional, and Ultimate editions–allows you to find new networks and create new network connections, verify connection status, and troubleshoot network connectivity issues.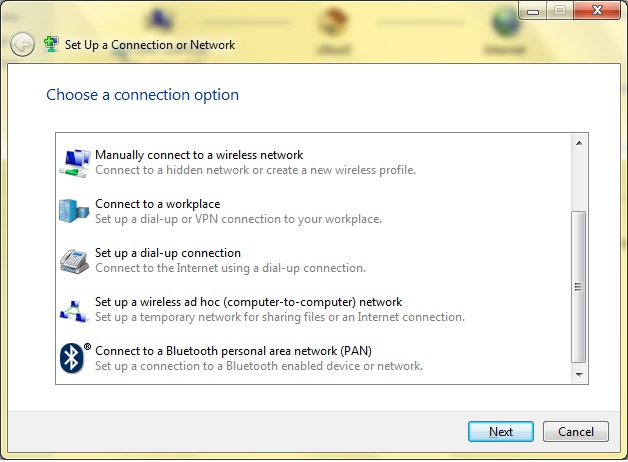 At the top is a visual representation of the current connection; you'll also find a link that displays the full map of your network, visually. If you lose your connection, the graphic will show the broken connection so that you can easily identify which portion is down.
You can click Troubleshoot problems at the bottom of the Network and Sharing Center to initiate diagnostic tests that will help you identify and resolve the issue. You can also establish new wireless-network or VPN connections by clicking Set up a new connection or network and following the prompts in the wizard.
The left side of the Network and Sharing Center provides links to more-advanced networking functions such as changing adapter settings or managing the Windows Firewall. One significant enhancement in Windows 7 gives you the ability to configure unique firewall profiles for the different location types (Home, Work, and Public); as you move from one location to another, Windows 7 will automatically apply the firewall rules for the appropriate location type.
HomeGroup
The next significant enhancement in Windows 7 is the HomeGroup. Microsoft designed the HomeGroup to mimic the way people generally protect their homes: You keep the outside doors locked to deter unwanted visitors, but you keep the interior doors unlocked to allow free passage for family members. When guests visit your home, you give them access to common areas such as the living room, but typically you don't let them venture into bedrooms or other private areas.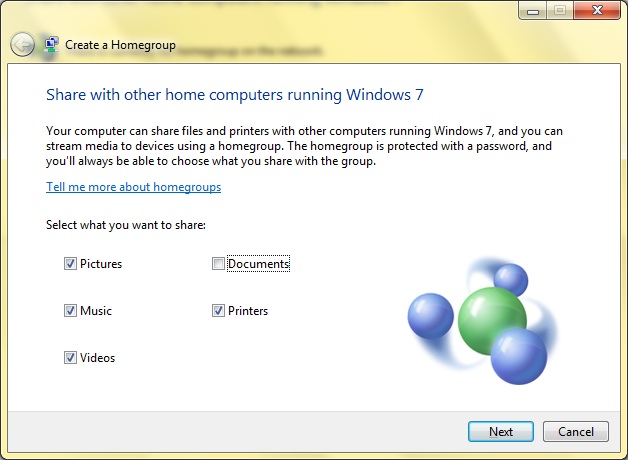 In previous editions of Windows, resources that are shared on the network are generally available to all, so a guest who is allowed to use the network–or an attacker who gains access through weak wireless-network security–is able to access all of the same resources as your family members can. (Be sure to practice good network security by making sure that encryption is enabled on your router and that you have a secure password.)
The HomeGroup allows you to share resources, such as files and printers, only with those who join the HomeGroup by entering the proper password. You can still grant guests access to the network to connect to the Internet, without inviting them to join the HomeGroup.
You have a few different ways to create a HomeGroup: You can select HomeGroup in the Control Panel, you can use the HomeGroup link at the bottom left of the Network and Sharing Center, or you can click the Choose HomeGroup and sharing options link from the Network and Sharing Center console.
Regardless of how you get there, click the Create a HomeGroup button to begin the process. Select the Libraries you want to share with other members of the HomeGroup by checking or unchecking the appropriate boxes.
After you click Next to create the HomeGroup, Windows 7 will automatically generate a password, which other users will need in order to join the HomeGroup and share the resources. The password is intentionally complex to provide better security; if you wish, however, you can change it after you set up the HomeGroup, by again going to Choose HomeGroup and sharing options from the Network and Sharing Center.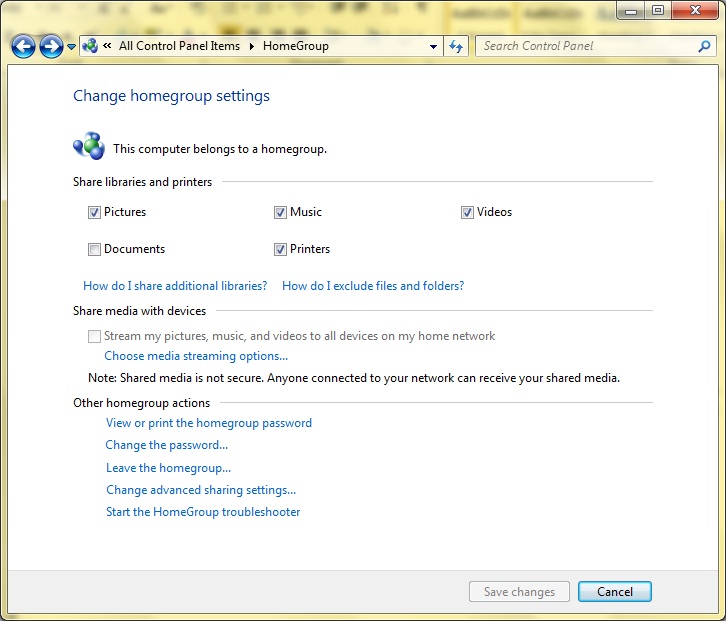 Once you have joined a HomeGroup, you can click Choose HomeGroup and sharing options to reach controls for determining what resources to share from your computer, or for excluding specific files and folders that you don't want other computers in the HomeGroup to access.
All versions of Windows 7 can participate in a HomeGroup, but Windows 7 Starter and Windows 7 Home Basic versions cannot create a HomeGroup on their own. Unfortunately, HomeGroup does not work with prior versions of Windows, so any Windows XP or Windows Vista systems will be unable to participate.
Sharing Media
Though HomeGroup takes the headache out of sharing resources, the really cool network sharing feature in Windows 7 is the OS's ability to share music between devices and to stream media to any connected device on the network.
You can turn on the media-streaming functionality through Windows Media Player. Click Stream and choose from the options available in the drop-down menu. In this menu you can allow other devices to play media from your computer, permit other devices to control your Windows Media Player remotely, or allow streaming of media to and from the Internet, making your music available from anywhere.
This interconnected media network, which can also include devices such as Zune media players or the Xbox 360 game console, enables you to share and access all of your media from virtually anywhere on the network, as if it were all part of a common pool.
You can view music or recorded TV shows from remote libraries and play them by streaming the material across the network. Or, if you want to watch a recorded TV show during, say, a flight, you can easily transfer it to your laptop so that you have a local copy for viewing.
With the PlayTo feature you can select songs–or even whole playlists–and direct them to stream to and play on connected devices. For example, you can choose a playlist on your Windows 7 PC and have it play on your streaming-compatible stereo system in your living room. A PlayTo icon is at the top of the playlist pane, on the right side of the Windows Media Player console. You can also right-click on Music and video files and choose PlayTo from the menu to select the devices to which you want to stream the media.
From Windows 2000 to XP to Vista, Microsoft has made steady improvements in the operating system's networking features and functionality. Years from now, though, Windows 7 will be remembered as the version that finally got it right, making networking simple enough that the average user can manage it without having to invite the family tech guru over for dinner.
In Video: Setting Up a Windows 7 Network
Want to learn more? Get step-by-step advice in "How to Set Up a Windows 7 Network."
For comprehensive, straightforward advice and tips that can help you get the most out of the new operating system, order PC World's Windows 7 Superguide, on CD-ROM or in a convenient, downloadable PDF file.