Flying saucers, crop circles, mysterious links, coded tweets: What's up with Google's obsession with UFO mythology? Three times in September, the search engine's home page featured spooky — or whimsical, depending on your point of view — extraterrestrial-themed graphics, including this Sept. 5 image of a mysterious craft abducting the second "o" in "Google."

Follow-up images included a UFO hovering above crop circles that spelled out "Google" — no doubt a sign that even extraterrestrials will sell out for a few bucks — and this flying-craft-with-tentacles picture that fans of The War of the Worlds might recognize right away: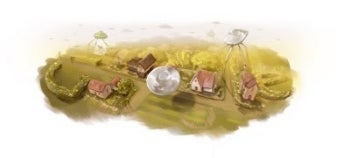 Conspiracy buffs loved Google's cryptic messages. Many Twitter users speculated that the search giant was attempting to reveal that UFOs were real. "I think they have made first contact [and] are breaking it to us the only way they know how," tweeted "elmofromok" after the latest image went live.
Alas, UFO buffs were no doubt disappointed last night when Google provided a relatively mundane explanation for its alien fixation. According to a post on The Official Google Blog by site designer Micheal Lopez, the series of cryptic images and riddles was a tribute to science fiction author H.G. Wells, whose 143rd birthday was September 20, 2009.
"Inspiration for innovation in technology and design can come from lots of places; we wanted to celebrate H.G. Wells as an author who encouraged fantastical thinking about what is possible, on this planet and beyond. And maybe have some fun while we were doing it," Lopez wrote.
Case closed? Not if you're a true UFO buff. Consider this:
Google's connection to mysterious flying craft isn't limited to its H.G. Wells' tribute. How does the company explain this Google Street View image of UFOs hovering over east London?
Why didn't Google celebrate H.G. Wells' books that have nothing to do with flying saucers? How about The Island of Dr. Moreau? Plenty of travel site tie-ins there.
And what's with Google naming its mobile operating system "Android"? Aliens build androids, don't they? Sounds like another subliminal message to me.
OK, I'll shut up now.
Contact Jeff Bertolucci via Twitter (@jbertolucci) or at jbertolucci.blogspot.com.