Is your Facebook profile picture just a boring old headhshot? Looking for a fun, unique avatar to use in message boards and other online forums? Head to Simpsonize Me and turn yourself into a bona fide Simpsons character.
All you need is a color photo of your face, preferably in JPEG or PNG format, with a minimum resolution of 640 by 480 pixels. (Simpsonize Me doesn't offer any cropping tools, so if you need help creating a photo with the proper specs, I recommend freebie image-editor IrfanView.)
Following the site's instructions, you simply upload your photo, choose a few options (male/female, age, etc.), and then click a big, inviting Simpsonize Me button. Presto! You're transformed into a resident of Springfield.
From there you can tweak just about every aspect of your appearance, from hair color to skin tone to body type. (The tools will seem familiar to anyone who's ever created a Mii on their Wii.)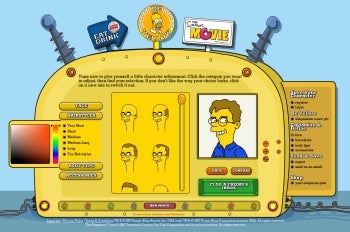 When you're done, you can download the image to your PC (in full-size or "buddy icon" format), e-mail it to a friend, or, if you register on the site, save it for future editing.
The Simpsonize Me site is free, and lots of fun, though you will have to contend with a lot of embedded Burger King promotion. (To paraphrase a classic episode of the show: "I'm so hungry, I could eat at Burger King." "Ewwwww!")