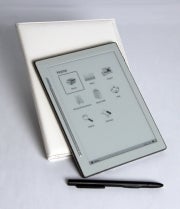 Things got a little more crowded in the ebook reader market Wednesday as IREX Technologies, a pioneer in e-paper technology, rolled out its first consumer reader for the U.S., the stylus-driven IREX DR800SG. The beige unit features an 8.1-inch e-paper display, a Qualcomm 3G wireless adapter which links to the Verizon Wireless network, and a different business and connectivity model than Amazon's Kindle. The DR 800SG will be available for $399 from Best Buy starting in late October, said Hans Brons, CEO and founder of IREX Technologies.
The IREX DR800SG allows users to import new content both wirelessly and via a cable link with a PC. Users can view purchased content on other devices or import their own content from their PCs.
"We believe in openness," Kevin Hamilton, CEO for IREX in North America, proclaimed at the New York launch event. Noting the device has a Linux-based operating system, he added, "Our device is really a reading tool for people who love to read."
The unit supports a number of open and DRM-based ebook formats, including the ePub format, and Hamilton noted that the company had partnered with Barnes & Noble to make it easy for users to purchase content with the DR800SG.
Instead of a finger-driven touchscreen, the DR800SG uses a magnetic resonance stylus, in part to maintain the brightness of the display, said Brons. He said the additional transparent touch layer needed to enable finger navigation would have decreased screen brightness by 15 to 20 percent. He noted that Sony's Reader uses just such a touch layer, with the expected detrimental effect on brightness.
The slim unit has an intentionally plain design, with only a menu button, a long "flip" bar and a power and activity indicator light on the left side of the 10-ounce unit. The flip bar is pushed from side to side to page through ebooks or menus. Clicking is performed with the stylus or by pushing down on the flip bar.
"We tried to create an almost frameless design," says Brons The color of the display and the hardware was meant to be "as neutral as possible."
He added that while the device is ready for electronic ink based note taking, the application that enables the function wasn't quite ready but would be added later as a free update. A color model is in the works for early 2011.
The edge of the unit is blank except for a power switch and a mini-USB socket. Installed in the battery compartment on the back is a 2GB SD Card, which can hold up to 1,500 e-books and can be replaced with a larger-capacity card. Due to the sheer lack of buttons, the unit, which swivels in its book-like hard-cover case as if it was a leaf of paper, proved easy to operate. While the large icons for items like the eBook Mall, online newspapers and other items were easy to read and click, some of the smaller indicators, like the 3G connection confirmation icon and the battery icon, get lost somewhat at the bottom of the display.
Pages can be bookmarked by tapping the stylus on the upper right corner of the display. From there you can go to a list of bookmarks for easy navigation. Changing fonts or rotating the page was a matter of making a selection from a menu. Readability was good and, of course, got better with more ambient light.
Hamilton said that $9.99 had become a "de facto price" for ebooks but noted that users don't pay extra for air time when downloading purchased content. He noted, however, that there may be airtime charges for future vertical business applications if they consume a significant amount of wireless bandwidth.
According to IREX, the unit should run for days on a single charge. Like other e-paper digital readers, the display consumes no power unity unless it's refreshing a page, downloading content or performing other activity.
Hamilton says the advantage of having the IREX DR800SG available in brick-and-mortar stores like Best Buy will give it a key selling advantage over Amazon's Kindle, which is available online.