Windows Vista never was particularly speedy in most people's eyes. Whether it deserved the reputation or not, the word on the street was that Vista was both slow and bloated.
Given that, it's no wonder that improving performance was one of Microsoft's design goals with Windows 7. Many reviewers have said that the new operating system feels faster than Vista. In our extensive PC World Test Center evaluations comparing the two, we found an increase in speed, though the overall improvement wasn't dramatic.
We installed Windows 7 on five computers (two desktop systems, two laptop PCs, and a netbook), and put the systems through our WorldBench 6 benchmark suite, which consists of a number of tests that assess a machine's performance in popular, real-world applications. We also ran timed tests to measure how the two OSs affected boot-up and shutdown times, laptop battery life, and launch times for several common apps. (For more information, see "Windows 7: How We Test.")
The verdict? Windows 7 makes some performance strides over Vista, though in some cases we saw no clear-cut winner, and in one area Windows 7 lagged considerably behind its predecessor.
For more of PCW's Windows 7 coverage, read our in-depth Windows 7 review and check out our guide to Windows 7 upgrades .
WorldBench 6 Test Results
Overall, Windows 7's performance improvement over Windows Vista is slight–but the important thing is that there is an improvement at all. For a breakdown of some of the performance scores, see the chart below.
Windows 7 vs. Vista: Speed Test Results
The PC World Test Center put both Windows 7 and Windows Vista through extensive performance testing and found that the new operating system makes incremental improvements over its predecessor overall. Below are select results from the WorldBench 6 suite.
Test system
WorldBench 6 (overall)
DirectX 3D rendering
Firefox
Nero
WinZip
Windows 7
Windows Vista
Windows 7
Windows Vista
Windows 7
Windows Vista
Windows 7
Windows Vista
Windows 7
Windows Vista
E&C Black Mamba (64-bit)
144
139
244
263
169
171
203
218
147
153
HP Pavilion a6710t (32-bit)
106
104
375
378
262
256
313
365
203
222
HP Pavilion a6710t (64-bit)
103
96
399
404
264
271
314
688
208
219
Gateway T-6815 (32-bit)
64
58
719
1093
443
431
667
1648
449
495
Lenovo IdeaPad Y530 (32-bit)
84
83
563
515
371
305
517
703
252
313
Lenovo IdeaPad Y530 (64-bit)
83
79
572
532
373
320
530
1127
253
291
Chart notes: For the WorldBench 6 overall score, higher scores are better. For all other tests, lower times indicate better performance; all times are reported in seconds. Bold text indicates better performance. All tests performed by the PC World Test Center in August 2009, using the final release version of Windows 7 and Windows Vista Service Pack 2. We tested the HP Pavilion a6710t and the Lenovo IdeaPad Y530 first with the 32-bit Windows Vista Ultimate and Windows 7 Ultimate, and then again with the 64-bit versions of both OSs.
On our E&C Black Mamba desktop (with a 2.66GHz Intel Core i7 processor, overclocked to 3.8GHz), Windows 7 Ultimate 64-bit earned a WorldBench 6 mark of 144, edging out Windows Vista Ultimate 64-bit, which scored 139. Here Windows 7 was roughly 3.6 percent faster than Windows Vista.
When comparing the two versions of Windows on the HP Pavilion a6710t desktop (with a 2.6GHz Pentium Dual Core E5300 CPU), we tested both the 32-bit and 64-bit editions of Windows Vista Ultimate and Windows 7 Ultimate. Running the 32-bit versions of Vista and Windows 7, the a6710t saw its WorldBench 6 score increase only a little, from 104 on the former to 106 on the latter. But on our WorldBench 6 tests comparing the 64-bit versions, it enjoyed a somewhat larger boost with Windows 7, going from a score of 96 on Vista to a mark of 103.
We saw similar incremental performance improvements on our portable test PCs as well. With the 32-bit versions of Vista Home Premium and Windows 7 Home Premium, our Gateway T-6815 notebook went from a WorldBench 6 score of 58 on the older OS to a result of 64 on the newer one. Our Lenovo IdeaPad Y530 laptop's WorldBench 6 score improved by only one point with Windows 7 in our comparison of 32-bit Ultimate editions (going from 83 to 84); when we tested the 64-bit editions of the two OSs, we again saw a modest boost, with the Y530's score increasing from 79 to 83.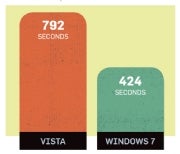 Windows 7 makes big gains in disk performance, however. For example, in our hard-disk-intensive WorldBench 6 Nero test–in which we create a series of images of an optical disc and then save them–every PC we tested showed an improvement. In our comparison of the 64-bit versions of Vista and Windows 7, the IdeaPad Y530 performed the test twice as quickly with the newer OS. Meanwhile, our Gateway T-6815 was almost two and a half times faster, going from a time of 1648 seconds to complete the test on Windows Vista to a time of 667 seconds on Windows 7. We had noticed a similar speedup on disk-intensive tests in our earlier evaluation of the Windows 7 release candidate; such gains may be due to updated hard-disk drivers under Windows 7.
One particular result worth noting: In our testing, the 64-bit versions of Vista produced poorer disk performance than the 32-bit Vista editions did. With Windows 7, however, Microsoft brought the 64-bit versions' disk performance more in line with that of the 32-bit versions. That explains the larger WorldBench 6 score advantages over Vista that we saw from 64-bit Windows 7 compared with 32-bit Windows 7.
Boot-Up and Shutdown Times
Microsoft says that in Windows 7 it changed the way the operating system handles starting up processes when you boot your computer. For some processes and services, Microsoft employs a scheme called trigger-start services. These are system services and processes that under Vista would have started up when you booted your PC, but now kick in only as needed. One example Microsoft gives is Windows 7's handling of Bluetooth: Instead of launching at system boot, Bluetooth now starts up when you use a Bluetooth device with your PC. Reducing the number of services that start at boot is supposed to reduce boot-up time.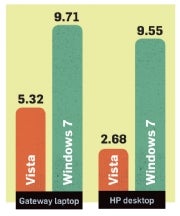 In our boot-up tests using one desktop and one laptop, though, we saw mixed results. On our Gateway T-6815 laptop, Windows Vista Home Premium (32-bit) had the advantage, booting up in 39.6 seconds on average. Windows 7 Home Premium (also the 32-bit edition) took slightly longer, averaging 43.6 seconds. On our HP Pavilion a6710t test desktop, the outcome was reversed. The 64-bit edition of Windows Vista Ultimate Edition booted in 55.2 seconds, whereas Windows 7 Ultimate Edition 64-bit came out slightly ahead, booting in 48.3 seconds.
At first, we couldn't explain why the 64-bit edition of Windows 7 improved the boot-up time over Vista (on the HP desktop) while the 32-bit edition of the new OS lagged behind its predecessor (on the Gateway laptop). In subsequent testing, however, we discovered that the 32-bit version of Windows 7 exhibited a similar speedup on our HP desktop, going from an average of 54.5 seconds on Vista 32-bit to 47.7 seconds on Windows 7 32-bit. The upshot: Whether Windows 7 will start faster than Vista for you will likely depend on your particular computer's setup.
As for shutdown times, in our tests we observed no significant difference between Windows 7 and Windows Vista. On our Gateway T-6815 laptop, the 32-bit version of Windows Vista Home Premium shut down in 11.72 seconds on average. The 32-bit Windows 7 Home Premium took 11.57 seconds to shut down–an improvement of a mere 0.15 second. The results were just as tight on our HP a6710t desktop. The 64-bit Vista Ultimate shut down in 9.1 seconds on average, while the 64-bit Windows 7 Ultimate took 9.0 seconds–a negligible difference of just 0.1 second.
To say that such results are too close to call would be an understatement: The difference between the two is so minor that you likely wouldn't notice it even if you had the OSs running side-by-side on identical hardware.
Granted, boot-up and shutdown times aren't as important today as they once were, now that many people use their computer's sleep or hibernate mode instead, but in either case you'll probably find only slight differences, if any.
Next: Battery Life Tests and Application-Launch Times
Battery Life Tests
Another important aspect of performance for Windows 7 is energy efficiency. With the new operating system, Microsoft is introducing technology aimed at reducing the computer's energy consumption and boosting laptop battery life. For instance, in a procedure that the company calls timer coalescing, Windows 7 will simultaneously perform certain routine tasks that require the processor, which in turn allows the computer to spend more time in lower-power mode.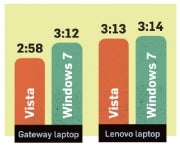 In our tests, the Gateway T-6815 laptop gained an additional 15 minutes of battery life on average with Windows 7. Running under Vista, the Gateway lasted 2 hours, 58 minutes on a single battery charge; under Windows 7 it ran for 3 hours, 12 minutes. Our Lenovo Y530, in contrast, eked out an insignificant 1-minute improvement with Windows 7.
Of course, your individual system-performance gain will depend to a large extent on your setup, but our results were still encouraging. At best, your laptop will gain a few extra minutes of run time; at worst, the battery life will be about the same as it was under Windows Vista.
Odd One Out: Application Launch Times
As our tests demonstrate, Windows 7 makes many modest performance strides beyond its predecessor. Our evaluations of the two OSs also uncovered one notable exception, however: Windows 7 is consistently slower than Vista at launching applications.
In every timed application-launch test we performed, Windows 7 took anywhere from a trivial 0.7 second to nearly 7 seconds longer than Vista to open a program. The biggest difference involved the launching of Adobe Photoshop CS4 on our HP Pavilion a6710t desktop running the 64-bit versions of Vista and of Windows 7. Under Windows Vista Ultimate, Photoshop CS4 took 2.7 seconds to open, on average. Under Windows 7 Ultimate, Photoshop launched in 9.6 seconds.
In the other application-launching tests, the difference was no greater than 3.7 seconds on average–all in Windows Vista's favor. Keep in mind, though, that while the percentage difference is sizable, the actual difference is only a few seconds. You may notice the slowdown, but it isn't as big a deal as the numbers might suggest.
A Faster OS
Though Windows 7's performance improvements may not blow anyone away, Microsoft's new operating system proved speedier overall with every computer we tested it on. Of course, our tests were limited to five machines out of thousands of possible configurations available on the market, so your day-to-day results may vary.
Even so, the most important part of our conclusion stands: Windows 7 is faster than Windows Vista. In a world where upgrades are often performance downgrades, this may be the biggest Windows 7 feature of all.
For more information about Windows 7, sign up for PC World's Windows News and Tips newsletter. And for comprehensive, straightforward advice and tips that can help you get the most out of the new operating system, order PC World's Windows 7 Superguide, on CD-ROM or in a convenient, downloadable PDF file.
*Editor's Note: When this story was initially posted, the headers in the results chart were incorrectly labeled. The chart has since been corrected. We apologize for any confusion.