At last, the moment iPhone owners have been waiting for: MMS is coming to the iPhone 3G and 3GS tomorrow. AT&T sent official word through its Facebook page (where it has 10,000+ fans, inexplicably), saying, "Late morning, Pacific Time, on Friday, the new carrier settings update enabling MMS should be live and ready to download through iTunes." Huzzah! But can AT&T handle this update, or will Friday be one of those nightmares that wakes you in a shaking panic?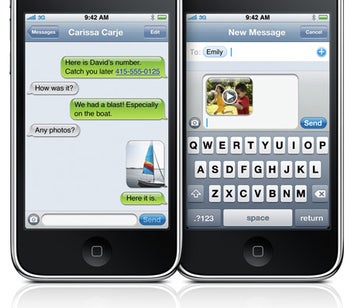 MMS, as you probably know, allows users to send graphics, audio clips, location, contact files, and video clips through AT&T's already iPhone-congested network (remember SXSW?). Though MMS was supposed to throw back the curtain in "late summer," AT&T silently held off on its plans until now, when it's presumably ready for the door-busting stampede of millions of iPhone customers taking pictures of their cats in hilarious poses and texting them to everyone they know.
An inside source at AT&T tells DSL Reports that AT&T is "very nervous" about the launch and is "requesting their MMS aggregator partners provide hourly updates on any message delays or problems."
"AT&T and its MMS partners are already seeing 'record traffic during peak hours of the night' with just the users selected for testing." You may remember that some iPhone users received MMS in mid-September. Apparently they went nuts. Friday promises additional insanity: "Estimates among those working on the project are that traffic on AT&T's wireless network will be about 40 percent higher all day on Friday."
In case it's not readily apparent, this is going to be massive. iPhone MMS has the potential to totally crush AT&T's networks. Get all your phone calls in on Thursday night; on Friday you may not even be able to pick up a call to save your life.
This will also mean a truckload of money for AT&T in texting charges. Since the $30 AT&T iPhone data plan bugged a few eyes when the bill arrived, many people chose a smaller text messaging plan to save dollars — increase that plan if you're intending on cranking out tons of picture messages. That, too, will mean more money for AT&T, but iPhone users have no alternative. Hopefully, with its newfound riches, AT&T will gobble up more bandwidth to support the morbidly obese tonnage coming its way.