Google's new Sidewiki web annotation feature doesn't allow anonymous commenting, and that is an excellent thing. The Web has been held hostage by anonymous comments for far too long. But, Google is also treating other peoples' content as its own, and that's bad.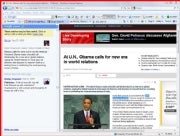 Before angry readers respond, let me say that anonymous comments are sometimes necessary. There are valid reasons for watchdogs and others to protect their identities from potential reprisals.
But, the Web's cloak of anonymity also leads to situations like the "Skanks of New York" incident, in which an anonymous blog post led to a lawsuit and the poster's identity becoming known worldwide.
Back to the Sidewiki, which is well-presented in our First Look.
It allows people to comment on the Web sites that they visit and appears as a sidebar to the page the user is viewing. This is controversial in the sense that Google is effectively changing the presentation of the page. If Sidewiki were to contain Google's advertising, rather than comments, the company could expect a lawsuit.
Sidewiki is an outgrowth of Google's view that they own–or at least have rights to attach themselves to–all the world's content. While Sidewiki is "free" as part of Google Toolbar, everything the company does is aimed at separating someone from their money, at least eventually.
I think it is a fair concern that Google is attempting to monetize Web sites without their owners' consent and in a way that directly conflicts with comment features already on many Web pages, including this one.
I am pleased that Google is applying what it calls a "quality algorithm" to the posts submitted to Sidewiki, hopefully allowing the most on-target and useful posts to appear above the junk that will doubtless be posted. This especially matters because Sidewiki inhabits a narrow slice of the user's screen and it may be difficult to separate good posts from bad ones without help.
It will be interesting to see how Sidewiki functions on controversial pages, such as those where a very vocal minority disagrees with the conventional view. Imagine the comments on pages saying that vaccinations don't cause autism or that Barack Obama was born in Hawaii.
As for anonymous posting, all Sidewiki entries are tied to a Google profile. That is no guarantee that the profile isn't bogus, but it does allow for things like an online reputation to develop and newly created profiles to be moderated by the quality algorithm. This is not a perfect system, but it is a good start and is easy for Google to implement.
On the whole, I am not wild about Sidewiki and am not sure I want to see every word on a popular Web site commented upon perhaps dozens, hundreds, even thousands of times. To make Sidewiki useful, that "quality algorithm" better be up to the task.
David Coursey tweets as @techinciter and can be contacted via his Web page.