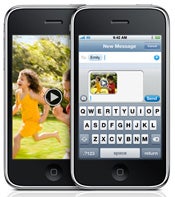 AT&T is on track to flip the switch to enable MMS functionality for U.S. iPhone users this Friday. The wireless carrier said that all users should be able to send and receive MMS messages by Friday afternoon.
Though considered one of the most advanced smartphones to date, the iPhone has been lacking a basic feature (in the U.S.) found on many other handsets — MMS. But AT&T is finally ready to roll out MMS this Friday, after increasing criticism from unsatisfied iPhone users.
AT&T announced on their Facebook page that late Friday morning Pacific Time, or Friday afternoon for the rest of the country, is the time to fire up iTunes and connect your iPhone. You will have to download an updated carrier profile and sync it to your iPhone in order to have the MMS feature enabled. This will be the only way to enable MMS on your iPhone.
AT&T rushed to beef up their infrastructure over the last few months, in order to support the new MMS feature Apple unveiled in June, and now the wireless carrier is nervous about the launch, according to DSLReports.
The story quotes insiders involved with AT&T saying the early testing of the iPhone MMS feature "has been a little rocky" and a 40 percent increase in network traffic is expected on Friday, as many iPhone users will start toying with the new feature and send pictures and videos to each other.
AT&T's early testing of the MMS feature on the iPhone could also be an explanation of reports last week from a few lucky users that upgraded to the iPhone 3.1 OS and were suddenly able to send and receive MMS messages.
The capability to send and receive photos, videos, audio files, and contact info through the iPhone Messages app was introduced by Apple in June this year via the 3.0 software update. However, AT&T was late in the game at enabling this feature, although most carriers around the world did this throughout the summer.