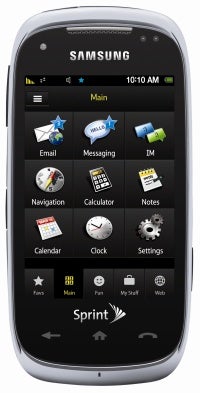 Keeping the HD on mobile trend alive, Sprint and Samsung today announced the aptly named Instinct HD. Instinct fans who were disappointed by the Instinct S30's minor updates will be pleased with the HD's new features.
They might, however, not be so thrilled with its price. The Samsung Instinct, due to arrive in stores Sept. 27, will cost a steep $250 with a two-year contract after a $100 mail-in rebate. That's $100 more than the Palm Pre and $70 more than the Android-based HTC Hero, both on Sprint.
The Instinct HD now boasts a 5-megapixel camera and camcorder as well as a TV-out HD connection. You don't get HD playback directly on the handset, however. The Instinct HD comes loaded with a full Opera Mobile 9.7 browser, Wi-Fi, an accelerometer and haptic feedback (a light vibration when you press keys on the keyboard). It also has Microsoft Outlook support, threaded messaging, advanced stereo Bluetooth 2.0 and visual voicemail.
If HD playback is a big deal to you, then the $250 price tag might not be such a big deal. For other Sprint customers who simply want a full-featured smartphone, I'd recommend the HTC Hero, the Palm Pre or the BlackBerry Tour. All three received high PC World ratings and cost less than the Instinct HD.