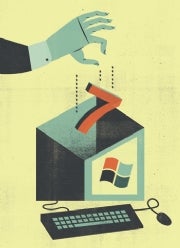 Confirm that you have all of the following at hand before you start the upgrade.
A compatible PC: Chances are that if your machine is running Vista, it will be able to run Windows 7. But to make sure, or if your system is currently running XP, download and run the Windows 7 Upgrade Advisor.
Upgrade disc and Product ID: Sorry, but you'll have to buy the upgrade in order to get the upgrade.
Image-backup software: If the installation goes horribly wrong, an image backup can take you back where you came from. I recommend using the free version of Macrium Reflect.
An external hard drive: You will need something on which to put that image backup. Look for an external drive that has at least as much storage capacity as your computer's internal hard drive does.
Pencil and paper: You will have to jot a few things down as you go along.
Your programs in installable form: You can skip this one if you're doing an up­­grade install, but if you want to start Windows 7 off with a clean slate, you'll need to reinstall every program currently on your PC that you want to keep.
Time: If you're lucky, you could have Windows 7 up and running in a couple of hours. But it could take all day–and that will be a day you'll be near your computer while having little or no access to it. Make sure you can afford that block of time.
A good book: You'll be spending a lot of that time waiting.
For more of PCW's Windows 7 coverage, read our in-depth Windows 7 review, and read how we tested Windows 7. For ongoing information about Windows 7, sign up for PC World's Windows News and Tips newsletter. And for comprehensive, straightforward advice and tips that can help you get the most out of the new operating system, order PC World's Windows 7 Superguide, on CD-ROM or in a convenient, downloadable PDF file.