For a company named after a fruit, Apple has been knocked several times for not being environmentally friendly. But Apple decided to turn over a new leaf and launch a microsite full of details of how each of its products impact the environment.
Countering green critics (ahem, that's Greenpeace), Apple released on Thursday night a significant amount of information on the environmental impact of its products. The disclosure is intended to improve Apple's green rankings in Greenpeace's guide to greener electronics.
Greenpeace's latest guide to greener electronics places Apple below the fold, but still ahead of Dell and HP. Image: Greenpeace (Click to enlarge the image).
But Apple is not content with only releasing extensive carbon footprint data. Green rankings, such as the ones from Greenpeace, don't count the achievements companies make on their promises to be greener, so Apple's real goal is to change how the rankings are put together, according to a BusinessWeek report.
The Devil is the Details
According to data released by Apple, the Cupertino company has an annual carbon footprint of 10.2 million tons, which is more than HP's and Dell's footprints together — 8.4 million tons and 471,000 tons respectively.
However, there is a major difference on how these carbon footprints are measured. The numbers from HP and Dell, both larger companies than Apple revenue-wise, do not include the emissions resulted from the use of their products — which would beef up the emissions total several times.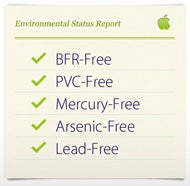 In comparison, Apple's figure of 10.2 million tons includes consumers' use of the company's products, which accounts for more than half of the total figure. Roughly speaking, this could mean that HP's and Dell's numbers should be doubled as well to achieve a realistic carbon footprint.
Apple is also boasting that it has eliminated many toxic substances from its products before any governmental ban. In the environmental status reports, Apple says its products are free of BFR, PVC, mercury, arsenic and lead, mainly due to the fact that glass and aluminium are used across the company's product line.