The Laptop Hunters be darned, Apple is not just a brand for the rich and trendy.
That should, at least, be the message if Apple revamps its iMac desktop computer line with more affordable pricing, and new features to boot.
AppleInsider reports that the new all-in-one desktops were finished this month, and that Apple is essentially waiting for marketing to "press the 'Go' button." The official announcement could come any time between next week and mid-October, according to AppleInsider's sources.
The new iMacs won't simply be cheaper. They'll also reportedly have a thinner design, and could sport previously unheard-of features for Mac users, such as an optional Blu-ray player (that'd be a shock considering Steve Jobs' unkind words for the format) and an unspecified audio-related addition.
But the big picture is Apple's continued push for lower prices, even as the com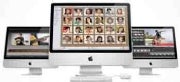 pany thrives on the high-end. The trend began earlier this year, when Apple slashed prices on its MacBook Pro and MacBook Air lines. That gave Cupertino some ammunition against Microsoft's "Laptop Hunter" ads, which generally claim that affordable Macs cannot be found. Apple's lawyers reportedly called Microsoft to complain about the ads, saying they were based on outdated pricing.
Though not computer-related, the company is now touting the low-cost message in its entertainment devices as well, with the $199 iPod Touch dubbed "the most affordable gateway to Apple's revolutionary App Store" (although there may be other reasons the iPod Touch is that cheap).
At its Rock and Roll event earlier this month, Apple chief executive Steve Jobs joked about Apple's turn toward affordability. Unveiling a video camera for the iPod Nano and mentioning how the video feature is basically free compared to buying a dedicated Flip camera, he drew chuckles by saying, "This is the new Apple, isn't it?"
Of course, if the iMac gets cheaper, it'll still be relatively costly. Right now, the least expensive iMac costs $1199, and scales up to $2199 for a desktop with a 3.06GHz Intel Core 2 Duo processor, 4 GB of RAM and a 1 TB hard drive. I wouldn't be surprised to see the cheapest model, with its 2.66GHz Intel Core 2 Duo processor, 2 GB of RAM and 320 GB hard drive, crack the $1000 barrier.
For your money, there are better specs out there, but at least the price of those unicorn tears is on the decline.