Twitter's the talk of the Web this week, with word that its latest round of funding could be worth as much as $100 million. That'd bring the company's total value to a whopping $1 billion — an awful lot of zeros for a startup based on brevity.
Despite the added attention being directed toward the microblogging service, though, it looks like its once-unstoppable growth may have started to slow. So what's going on?
Twitter Trends
The new stats come courtesy of Web analytics firm Hitwise. Its researchers looked at visits to Twitter's Web-based interface from last spring through now and found the site's upward trend appears to have hit a snag. Twitter's market share has been dropping downward since midsummer, Hitwise finds, with its search volume showing a significant shift since about April.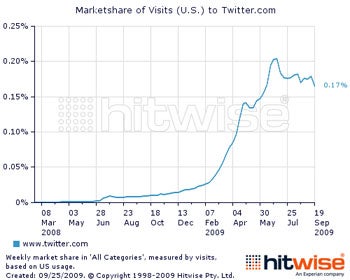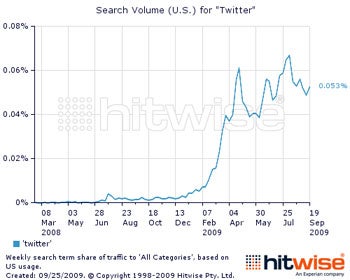 Now, it's worth noting that the majority of Twitter users utilize a third-party client to access the service — only about 20 to 30 percent of people go through the Twitter Web site, depending on which set of metrics you believe — but, as Hitwise points out, Web-based traffic and search volume should hold some correlation with the rate of new user adoption.
Other Hitwise data suggests the same effect, showing the number of new users coming to Twitter from its top traffic sources — sites such as Facebook, Google, and MySpace — has fallen consistently across the board from April to now.
The Twitter Truth
Even with scammers and spammers trying their darndest to take it over, Twitter's clearly in no danger of disappearing. Its Web site alone pulls in 54 million visitors a month, according to some recent estimates, and the fresh influx of cash is certainly a positive sign for the company's future. Indeed, plenty of people are still singing Twitter's praises (or simply singing about Twitter, in some cases).
Still, these statistics make you wonder whether the initial "wow factor" is starting to wear off. It's not an unreasonable theory, nor would it necessarily be a negative reflection on anything Twitter's doing. After all, no one can expect to maintain a 3,000-percent year-to-year growth forever — even if a force as strong as Oprah is standing by your side.
JR Raphael likes to think Oprah will one day endorse eSarcasm, his new geek humor site. Follow JR on Twitter: @jr_raphael.