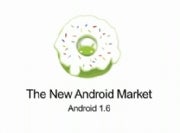 Android OS 1.6, codenamed "Donut", has been released to application developers with relatively little fanfare, at least in comparison to the previous 1.5 "Cupcake" version. The list of new features suggests the public release will grab a little more attention from users; it includes a series of large fixes, frequently-requested additions, and a few surprises.
Possibly the most single requested feature for the Android platform, native multi-touch support, has been confirmed both as hardware support primarily for upcoming devices such as the HTC Hero and as software emulation. Many third-party applications will need to be updated to support multitouch gesture control, but it shouldn't be long before they start popping up on the Android Market considering it's been such a consistently requested feature.
The Android Market itself will be getting a facelift, including a new UI and more finely grained control for listing and searching apps. New categories will debut that should help developers list their apps more effectively. And to help visibility, the new version of the Market will give users the ability to search apps by cost and release date and show screen shots in app descriptions.
A quick-search bar has been added providing the ability to search both web content and the handset simultaneously, from the home screen (similar to Universal Search on Palm's webOS). Quick-search includes handset contacts and responds to voice commands for both searching and placing calls. The quick-search bar includes the ability to index third-party app content, however users may add or remove the service on a per-app basis.
Multilingual text-to-speech support is now available to developers, so expect your Android handset to start talking to you shortly. Especially interesting is that the text-to-speech, in addition to being multi-lingual (English and German for now), seems to support multiple tertiary localizations (for example UK vs. US English).
The new display scaling feature only confirms the rumors: Android is moving into the PMP, netbook, and tablet markets (we've already seen it on an Archos tablet). Display scaling will allow the same UI used on Android handsets to be applied to larger-format devices without compromising either the multi-desktop approach or overall graphical fidelity.
Android 1.6 will also reportedly support CDMA handsets, which may not mean much to users that already own Android handsets, but for developers it ultimately means more Android users.
The HTC Hero for Sprint is the first Android handset to run OS 1.6. Reviews of the Hero have mainly been positive, but there's a consensus that it is somewhat sluggish. And be sure to read PC World's full review of the HTC Hero.
Follow us on Twitter @geektech and get the latest hacks, tips, and tweaks.