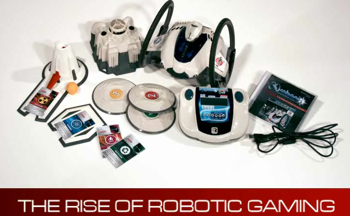 Move over Battle Bots, now there's Roboni-I, the programmable gaming robot that lets you wheel plastic automatons round micro-arenas for solo or team sport, on or offline. Yep, it's really real, a shin-high fat plastic disc with hooped rubber wheels extending like arms from either side. It sports four microprocessors, 16 sensors (an infrared gun along with touch and obstacle detection), a USB port, a speaker, a game accessory reader, and radio-frequency remote controls. It zips around flat surfaces like a funky low-profile racer and pulls off 360-degree turns quicker than Automan.
You get six games out of the box that can interact with included peripherals like a base station, energy port, and special effects pad, as well as a controller that looks like a chubby console gamepad.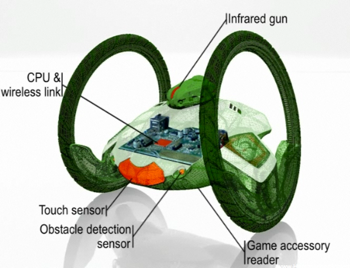 According to the product description
Depending upon the game you select (or modify using the software) each accessory serves a unique purpose: the base station can act as a depot, timer, or target; the energy port ejects a ball (which is corralled by the robot's built-in scoop) and recharges the robot; and the special effects hub provides robots with advanced maneuvers and abilities.
The robot's sensors and RF chips allow it to interact with those accessories as well as competing robots, so two players can duel bot-to-bot. (The sales video depicts two Roboni-I bots wrangling over a yellow ball, for instance.)
Cooler still? The option to reprogram the Roboni-I with Windows-based "Command Center" software that lets you fiddle your robot's behavior and reflex actions. Go online and you can track opponents, download more games, schedule matches, and complete online missions to train for real-world matches.
You can also participate in interactive online gaming using any of the robot's programmed routines–you can identify other robots online as "friend" or "foe" and the robot will interact with them accordingly. The games involve the robot picking up different colors by driving over encoded pads and delivering them to the hub before time expires, collecting a ball while avoiding "bullets", dropping electronic "land mines" to obstruct competing robots, and more. The robot's dual monowheel design provides nimble 360º movement as it moves between accessories–you can control it from up to 30′ away.
All that for $299.95, available this fall from ToysRUs.com, Amazon.com, BarnesandNoble.com, or at retail from Hammacher Schlemmer, Edmund Scientific and other specialty shops. More info at Robonica's home page.
Follow me on Twitter @game_on