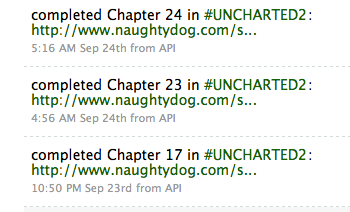 Game On has completed level 10. Game On has completed level 11. Game On has completed level 12. Game On has completed level 13. Game On has nicked a Glass Evil Eye. Game On just found a Saraswati Statue. Game On is connected to multiplayer. Game On uploaded a movie. Game On will be back after using the toilet.
How's that strike you? Yawn and a shrug? Well stand back, it's about to roll in like a tsunami of blah as games (like developer Naughty Dog's Uncharted 2) come standard with the option to "tweet" your in-game exploits, one generic accomplishment after another.
Spike TV host Geoff Keighley gushed upon completing Uncharted 2 this weekend, twittering "you will be f*cking blown away" and momentarily popping up on N4G for saying so. I don't follow Keighley, but scanned back through his updates after noticing the following.
"Completed Chapter 23," "Completed Chapter 17," "Completed Chapter 13," "Completed Chapter…"
And so on. At least a dozen entries (some chapters are missing, possibly deleted, possibly because he was offline or temporarily disabled the feature). Supremely annoying? You tell me. It's all done instantly, silently, and with your consent, automatically.
That's the rub–the "automatic" part. Sure, you can leave twittering off entirely, but it's not Twitter that's faulty, it's Uncharted 2's implementation. Why not offer a text input window and let us alter the message? Even message board wits could do better. "Completed Chapter 6, tard!" or "Connected to multiplayer–serious business!" See? Easy! Add a few animated GIFs, a few Photoshopped pictures, and a passive-aggressive slightly paranoid disposition, and presto, instant budding sophisticate.
Twitter's fine for news bites and notice-links and snips of hand-typed info, not robotic dispatches. Too late to add customized messaging (to Uncharted 2) in a patch? Alas, probably.
Follow me on Twitter @game_on