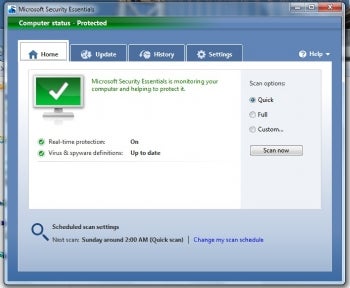 If you can't wait to get your hands on Microsoft's upcoming free antivirus app, and you missed the limited public beta period, you won't have to wait any longer. Microsoft has confirmed that its Security Essentials antivirus software will be publicly available tomorrow, September 29.
The download isn't yet available as of this writing, but you'll be able to get it from Microsoft's Security Essentials site. It'll be avaliable for users of Windows XP, Vista, and 7.
Microsoft first announced Security Essentials–code-named "Morro"–late last year, as a free replacement to the paid Windows Live OneCare. The announcement shook up the free antivirus market, and led some to wonder if Microsoft would ultimately end up dominating the desktop security market.
In late June Microsoft offered a limited public beta of Security Essentials. In my initial hands-on, I found the Security Essentials beta to be well designed and easy to use. The main interface uses a single window with four tabs, and a color-coded status bar across the top, so you can see if your PC is protected at a glance.
The Security Essentials public beta also took fourth place in our recent roundup of free antivirus software. Microsoft Security Essentials beta detected 97.8 percent of malware in tests conducted by AV-Test.org, which is decent score compared to other, similar free antivirus tools. Malware scans were a bit on the sluggish side, though, taking longer to scan than a number of competing products.
But Security Essentials has a lot going for it, though it isn't perfect. As our reviewer Erik Larkin put it when he looked at the beta, "If Microsoft can improve the detection rate a bit–and rev up the scan speed more than a bit–before the program's final release, Security Essentials could turn out to be a real contender in the free antivirus arena".