Notepad++ (free) starts with the basic text editing provided by the Windows Notepad program, and adds a slew of features to help programmers and scripters.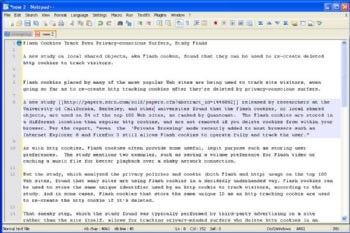 The tabbed display, which allows for viewing and editing multiple files within one program window, may look similar to the bare-bones Windows program on first glance. But you'll quickly find many options not available in Notepad, starting with line numbers and current line highlights, and progressing on through features available via drop-down menus and a chock-full toolbar.
For example, Notepad++ allows for creating macros to speed up repetitive typing tasks. You'll also find a wide range of "TextFX" affects for converting regular text to hexadecimal or deleting blank lines, inserting file and directory names and paths, or other programmer-type functions. Still more options allow for quickly switching between different text encodings such as ANSI or UTF-8, and plenty of additional abilities also cater to the coder crowd.
Notepad++ is shared via the GNU GPL v2 license. Its source code is available.