If you were hoping for more circumstantial evidence the Apple tablet is real, today you're getting your wish. Michael Tchao, one of the leading proponents of Apple's failed Newton platform, returned to 1 Infinite Loop on Monday, according to The New York Times. No one knows what Tchao's actual duties are, but considering his previous experience with the tablet format, some are speculating Tchao may be back to help Apple figure out a way to market its mythical tablet.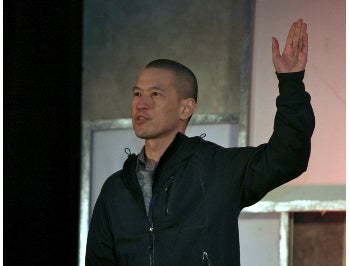 Tchao's new title at Apple is vice president of product marketing, and he reports directly to Phil Schiller, senior vice president of worldwide product marketing. Before rejoining Apple, Tchao was working as the General Manager Nike's Techlab, which developed gear like the Nike Plus lineup that tracks your workout statistics and stores that information on selected Apple iPod models.
Tchao and the Newton
Before there was an iPhone or even a Palm Pilot, there was Apple's Newton. In 1993, during Apple's dark ages (read: no Steve Jobs), the company launched a handheld digital organizer called the MessagePad. The device ran a specialized operating system called Newton, and did almost everything a personal digital assistant (PDA) can do today, including note-taking, contact management, e-mail, beaming, wireless connectivity (via a wireless pager card), and desktop syncing.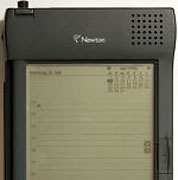 Apple produced eight MessagePad devices, and also licensed the Newton OS for use on third-party units. But the Newton concept never really caught on, and by 1998 Newton was one of several product lines terminated by returning CEO Steve Jobs.
Michael Tchao was part of a team of Apple executives and engineers behind the Newton project. He is said to be responsible for convincing former Apple CEO John Sculley to approve Newton after Apple's research and development department said no to the project. Tchao left Apple in 1994, a year after Newton launched.
Today's Apple Tablet
On the one hand, it may make sense for Tchao to come back to Apple to help the company market its newest tablet device. Tchao has experience with the tablet format, and he has had time to reflect on what went wrong with Newton. Then again, there is a huge difference between Tchao's Newton and the supposed specs of the new Apple tablet. The Newton platform was geared toward business users, and nothing in the rumor mill suggests the mythical Apple tablet will be aimed at enterprise users the way the equally mythical Microsoft Courier might be.
Considering Tchao's most recent experience with Nike Plus, it seems more likely he will be focused on iPod devices. Then again, one popular myth is that the Apple tablet is just a bigger iPod Touch. So maybe Tchao's Newton experiment combined with his iPod experience is just what Apple needs to launch a tablet.
It's impossible to know for sure what Tchao is up to at Cupertino, but if you were looking for more reasons to believe in the Apple tablet's existence, then I guess today's your lucky day.