Google Docs is trying to win the hearts and minds of college students. Over the summer, Google hired student interns to figure out what features Google Docs was lacking that would encourage more students to use the productivity suite. Here's what Google's adding to attract a younger crowd — and to ward off the threat posed by Microsoft, as the software giant prepares to roll out a competing suite of Web applications early next year.
Equations Editor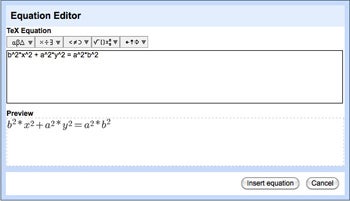 Math and science students can now use Google Docs to take notes in class, without having to go through an overly complicated process to add equations. To access the editor, you select the Format drop down menu, and click on 'Equations.' A pop-up entry box appears; this is where you submit your formula.
All the mathematical symbols are grouped in five separate drop-down (or in this case "drop-up") boxes. A preview box below the data entry field displays what the equation will look like on the page. Once you insert the equation onto the page, the text editor treats it as one whole unit, which can be dragged anywhere within your document.
It should be noted this feature is for note-taking only. The editor has no computational capability for basic equations.
Superscripts and Subscripts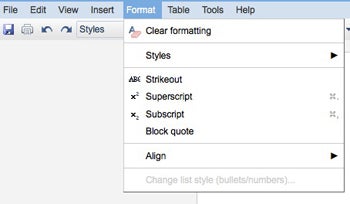 Another feature for the science and math set is the capability to add superscripts and subscripts to your documents. You can use this to express chemical compounds, such as H20, or for Algebraic equations. Click on the Format menu and you will see the option to select the script types. To get back to regular script, select 'Clear Formatting' from the Format menu.
Translation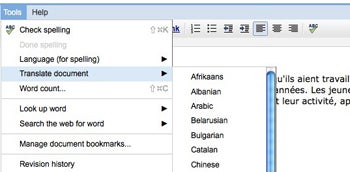 After Introducing the feature in late August, Google has incorporated its translation tool right into Google Docs. You can use this feature to check your work when writing a foreign language essay, or translating chunks of text for a research project.
Select 'Translate Document' from the Tools menu, and choose from the 42 different languages Google Docs offers. The translated text will appear in a new tab or window where you can choose to either replace the original text with the translation or copy the text to a new document.
If you're looking to place the translation under the original text, you'll have to copy the translated text and manually paste it into the original document.
As with the original Google Translate tool, the translations are good, but not perfect. So I wouldn't recommend using this tool to finish that French 301 term paper that's due in a few weeks.
Other Features
If you use Google Forms to create polls or surveys, you can now move your participants quickly through your questions with the "Go to page based on answer" option. The feature is fairly self-explanatory: a person answers a multiple-choice question, and Google directs them to a specific page in the survey based on their answer.
Google has also expanded its selection of bullet and numbering styles, and you can now choose whether or not you want to include endnotes and footnotes when printing off your documents.
Microsoft Web Apps on the Horizon
With the exception of translation and Google Forms, Microsoft Word has been able to do for years what Google has just added to its online suite. The difference is Google has devised a very simple way to insert and manipulate information, while Microsoft's matching functionality can sometimes be a little more complex. That simplicity could be Google's advantage. The search giant has made it easy to create, share, and collaborate on documents, while Microsoft's Web Apps lack an effective solution for sharing and offline synchronization, according to Computerworld's Preston Galla.
That being said, Microsoft still has several months to tune up its Office Web Apps suite before it competes against Google Docs early next year. But if you want to see how Redmond's new service is shaping up, check out this Web Apps preview.