Three years after launch, Dungeons & Dragons Online: Eberron Unlimited gets an identity transformation into a free massively multiplayer online game instead of a subscription-based one. That puts D&D Online in the realm of other popular, free MMOs like Guild Wars, and ought to give it a shot in the arm for its player base. It's a good bet that most gamers never gave D&D Online a shot recently; a subscription fee is a big barrier to play, even with the brand name.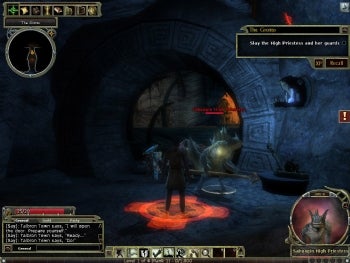 Dungeons & Dragons Online is the only MMO that uses D&D rules, though they're using D&D 3.5 instead of the current 4.0. Fans of other electronic or paper-and-pencil variations of this tried and true roleplaying system will find it familiar. It's based on the Eberron setting, which combines high fantasy with a bit of steampunk. It plays well on even medium-range PCs, perhaps owing to the fact that it is three years old.
The tutorial is fun to play. The various feats and skills are represented by simple icons, and your tutorial companions have excellent voice acting and act appropriately for their class and alignment. D&D Online would be even more fun in a group setting with people you know (and there's a message system and grouping to facilitate this), and now that it's a free game, it's just a matter of waiting for the long download and long patch to start playing. There's also an option to jump into the game while it's still downloading, but why not wait for it all to finish first so you have access to all the content and don't have to wait?
Now that Dungeons & Dragons Online: Eberron Unlimited is free, a few things do work differently. Several classes, such as the martial-arts master Monk, are locked out for free users unless that user pays a small one-time fee, known as a microtransaction. Likewise, you can create only two characters unless you pay for more slots. If you're currently a subscriber, you can keep paying the $15 a month you were paying before the free switch happened, and you get access to everything you had before–plus some cool bonuses, such as free in-game Turbine Points, which let you purchase additional items that free players would have to pay for a la carte.
Most MMOs come on to the scene and burn out quickly, with the publisher even shutting the servers down and making your invested time (and money spent on the retail product) worthless. It's nice to know that the developers have found a way to keep Dungeons & Dragons Online: Eberron Unlimited going.
Note: Dungeons & Dragons Online: Eberron Unlimited is free. However, microtransactions will get you additional features, or you can pay $15 a month for access to everything.
When you purchase through links in our articles, we may earn a small commission. This doesn't affect our editorial independence.