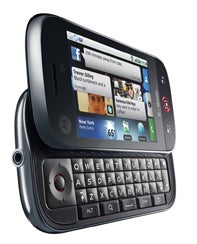 Motorola's entry into the Android game, the Motorola Cliq, is coming just in time for the holidays. The Cliq will be available to existing T-Mobile customers October 19 and everybody else on November 2. The $200 pricetag is comparable to the iPhone 3GS, but $20 more than Sprint's HTC Hero (also an Android phone) and $100 more than the Palm Pre. With less expensive options out there, will the Cliq shake up the competition?
While I only used the Cliq briefly, I could tell already that I liked its design best out of all the Android phones out there. Like the G1, it has a keyboard and a touch screen. A physical keyboard is necessary as the native touch keyboard on the current version of Android is far from perfect (as we found out in our review of the T-Mobile myTouch and the HTC Hero).
The Cliq's keyboard is even better than the G1's, though. For one, the keys are more raised and easier to press than the G1's. The Cliq also doesn't have that annoying inset as seen on the G1. Other things we liked about the hardware: The gorgeous 3.1-inch touch screen (which showcases the MOTOBLUR UI beautifully), the 3.5-mm headphone jack and the 5-megapixel camera.
The Motorola Cliq will also be the first phone to showcase MOTOBLUR, Motorola's skin for Android. While Android is easy enough to use, it lacks the aesthetics and slickness of some other OS's. MOTOBLUR to the rescue: The UI is clean and intuitive and isn't overdone with too much fluff. It is also highly customizable and doesn't look like any OS out there. I'm curious to see how it stacks up to HTC's UI on the Hero, which also impressed us.
Needless to say, I'm looking forward to getting my hands on the Cliq, but the iPhone 3GS-competitive price makes me nervous. I question whether Android and Motorola have enough appeal to sway customers from the iPhone or other less expensive offerings. Check back soon for a full rated review of the Motorola Cliq in coming weeks.