I can't help it. When I know something's free, I spend the entire review process waiting for the gotcha to appear. Happily, the gotcha never came with Partition Wizard Home Edition. This partitioning utility just created, deleted, moved, resized, and copied partitions with no fuss or bother–or error messages. It also recreated a master boot record, wiped a disk, and even searched for, found, and recovered a deleted partition with nary a failure.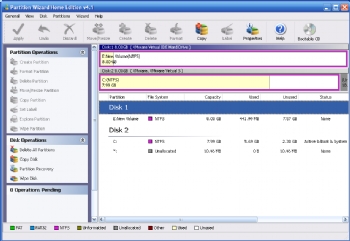 The only glitch I found was that the program only functioned properly when it found errors on a partition, after invoking chkdsk from within the program. Running chkdsk outside of the program would not convince it that the problems had been solved.
Still, what more could you ask for? I suppose the ability to run Partition Wizard under server operating systems. You can have that too, but you'll have to pony up $120 for the server version or $300 for the Enterprise version which, while expensive, are competitively priced for that arena. If you're IT'ing it, Partition Wizard could be worth a look. I haven't tested it extensively in the field, but it appears reliable and stable enough to give Acronis Disk Director and Paragon's Hard Disk Manager 2009 Suite a run for their money.
Partition Wizard's interface is simple and easy to use. All basic functions are displayed at the top of the window as large icons as well as on the menus, and more advanced functions like "wipe disk" are only found on the menu where you're not likely to choose them accidentally. Like most programs of its ilk, you choose a series of actions, e.g., delete, resize, move and they're queued until you hit the apply button.
Partition Wizard is a must-download for anyone who deals with partition operations on a regular basis. It has a few more features than Easeus Partition Master, and there's even a free bootable CD version available.
When you purchase through links in our articles, we may earn a small commission. This doesn't affect our editorial independence.