You've downloaded music from a variety of sources. Sometimes you grab full albums, sometimes you grab single tracks. Amazon MP3 and iTunes might label their tracks differently. Or, maybe you've imported from multiple iPods or MP3 players and it's all one big mush of files. That's where MusicBrainz Picard Tagger (free/donationware) steps in.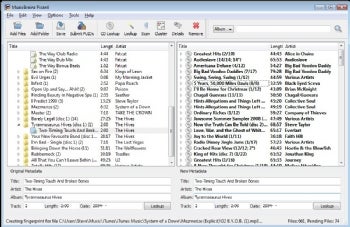 MusicBrainz Picard Tagger examines every music file in every subdirectory in a specified folder, and then uses its built-in data lookup to sort and rename all these files in an album-based format. That means all your tracks sitting in a music folder will not only get the correct track number and name, but also be placed in a folder with the correct album name.
If you know the artist name of a particular track, but lost the song information or track number, MusicBrainz can also help you look up the song title and its placement on the CD manually. It also has the ability to acoustically match tracks with no data at all–though it still couldn't figure out two of mine. They were common tracks that happened to be ripped from a CD at a low bitrate and volume. To its credit, Picard got hundreds of other tracks correct.
Note that there are several functions that MusicBrainz Picard can do, from lookup, to scan, to cluster. It's definitely not user-friendly at first glance, so be sure and read through the online help file to determine the correct order to do things in. There's also robust drag-and-drop capability; for example, dragging a missing track into an existing album will cause Picard to try and match it.
For those obsessive about having the "right" version of tracks, for those who want to track down duplicate music, and for those who want to make sure their The Who tracks are labeled Baba O'Riley and not Teenage Wasteland, MusicBrainz Picard Tagger is for you. This definitely seems like an app that the MusicBrainz people could be charging for–but it's freeware.