Microsoft Courier caught a lot of attention when an introduction video for the device leaked out last week. The leaking continued on Tuesday with a brand new demo video courtesy of Gizmodo, plus a rumored launch time frame and a deeper insight into what this project is all about.
Microsoft Courier: A Quick Primer
Courier is a rumored portable tablet that is believed to be in the prototype phase of development at Microsoft headquarters. The Courier has two 7-inch, presumably color, touch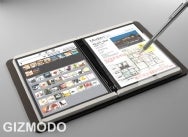 screens that use a combination of multitouch and stylus inputs. From what we've seen so far, Courier does not have any kind of keyboard — virtual or physical — and depends completely on handwriting recognition software for entering text. Tech specs are scarce, but Courier would have Wi-Fi connectivity and a camera.
Infinite Journal
One of Courier's key application features is something called the "Infinite Journal." Similar to Microsoft OneNote, the Infinite Journal lets you store Web pages, notes, photos, and other pieces of information you need to keep together. Infinite Journal also features an online collaboration tool where you can publish your notes to a Website where other people can view and edit your work.
To search through your Infinite Journal you can either enter a search term with your stylus or scroll through your pages using a Cover Flow-like interface. A really cool new feature shows the spine of Courier acting as a virtual pocket for information. In the video, the user grabs a photo from one page of her Infinite Journal (what a terrible name), "tucks" the image into the spine of her Courier, flips back to another page, and places the photo where she wants it. The new video also shows off Courier's drawing capabilities for use by designers and graphic artists.
Other Leaks
Not to be outdone by Gizmodo's video leaks, ZDNet's Mary-Jo Foley has uncovered some information as well. Her sources have told her Courier was inspired, at least in part, by Franklin Covey planning products and that Courier will run a version of Windows 7.
But Microsoft doesn't want to let you install the full version of Windows or Windows programs onto Courier. Instead, Microsoft is following the iPhone model where you will only be able to install Courier-specific apps onto the device.
Foley's sources also say Microsoft may produce the hardware itself instead of licensing the software to third-party manufacturers. Perhaps the most stunning rumor, though, is the assertion that Microsoft hopes to launch Courier by the middle of next year. That seems a little far-fetched considering that all we've seen so far are concept drawings and videos, and nothing in the way of a live product shot.
Nevertheless, Courier looks like an interesting concept that would be a big hit if it works as advertised. But notice that so far none of the Courier rumors address the question of whether this device can handle music and video playback. I would think this would be a given, but when it comes to Microsoft. you never know.
Courier User Interface from Gizmodo on Vimeo.
Connect with Ian Paul on Twitter (@ianpaul).