Reader Bill has a problem with Internet Explorer 8 running in Windows XP: Every time he starts the browser, it opens in a window rather than full-screen. He has to maximize it manually every time. What a hassle!
I feel your pain, Bill. In fact, I was having the same problem with Excel 2007. Fortunately, it's a simple matter to force any program to run maximized (i.e., full-screen) when you start it. Here's how: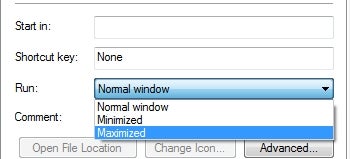 1. Right-click the program's shortcut, and then click Properties.
2. This will open the Properties window with the Shortcut tab already selected. Click the pull-down menu next to Run and choose Maximized.
3. Click OK and you're done!
Now, when you start that program using that shortcut, it should give you a full-screen window.