Foxylady48180 asked the Answer Line forum about Vista's tool for measuring hardware performance.
You'd think that a feature called Windows Experience Index, first introduced with Vista, would ask how you like your Windows experience. Maybe Microsoft is scared to ask that question of Vista users. So instead the Index examines and scores your hardware's ability to handle the operating system and certain types of applications.
To see your score, select Start, right-click Computer, and select Properties. It's the first listing under the System subhead: Rating.
The score is a number between 1 and 5.9. For instance, a score of 3.0 indicates that you've got the minimum muscle needed for the Aero interface, that Media Center will be able to handle standard definition TV, and that high-end graphical games will run, but not at their best. See this In-Depth Look for details.
Before we go into our own in-depth look, click the Windows Experience Index link next to the score. That breaks down the score into categories, showing you how much the processor, memory, and other components help or hinder performance.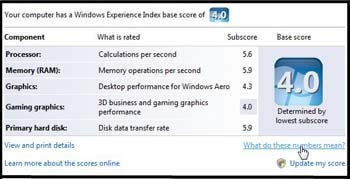 You might want to click Update my score and wait a few minutes just to make sure the numbers are accurate.
You may notice that the overall score isn't an average of the category scores, but the lowest subscore. Like the proverbial chain and it's weakest link, a computer is only as fast as its slowest, regularly-used component.
Something else worth noting: The 5.9 upper limit on Experience Index scores is, at least theoretically, temporary. The potential top score is supposed to increase as hardware improves. The idea is that a score of 4.3 would remain 4.3 as computers get faster, but it eventually be 4.3 out of 8.9 instead of 5.9.
It didn't work out that way. Nearly three years after Vista's release and weeks before Windows 7's, the Experience Index still goes up to only 5.9.
Speaking of Windows 7, the new OS contains its own Experience Index–with a maximum score of 7.9. My test PC, which scored 4.0 in Vista (thanks–if that's the right word–to onboard graphics that can't handle the hard stuff), made a full 6.4 in Windows 7.
Check out the original forum thread. It contains information on how the quality of RAM can effect the score.
Add your comments to this article below. If you have other tech questions, email them to me at answer@pcworld.com, or post them to a community of helpful folks on the PCW Answer Line forum.