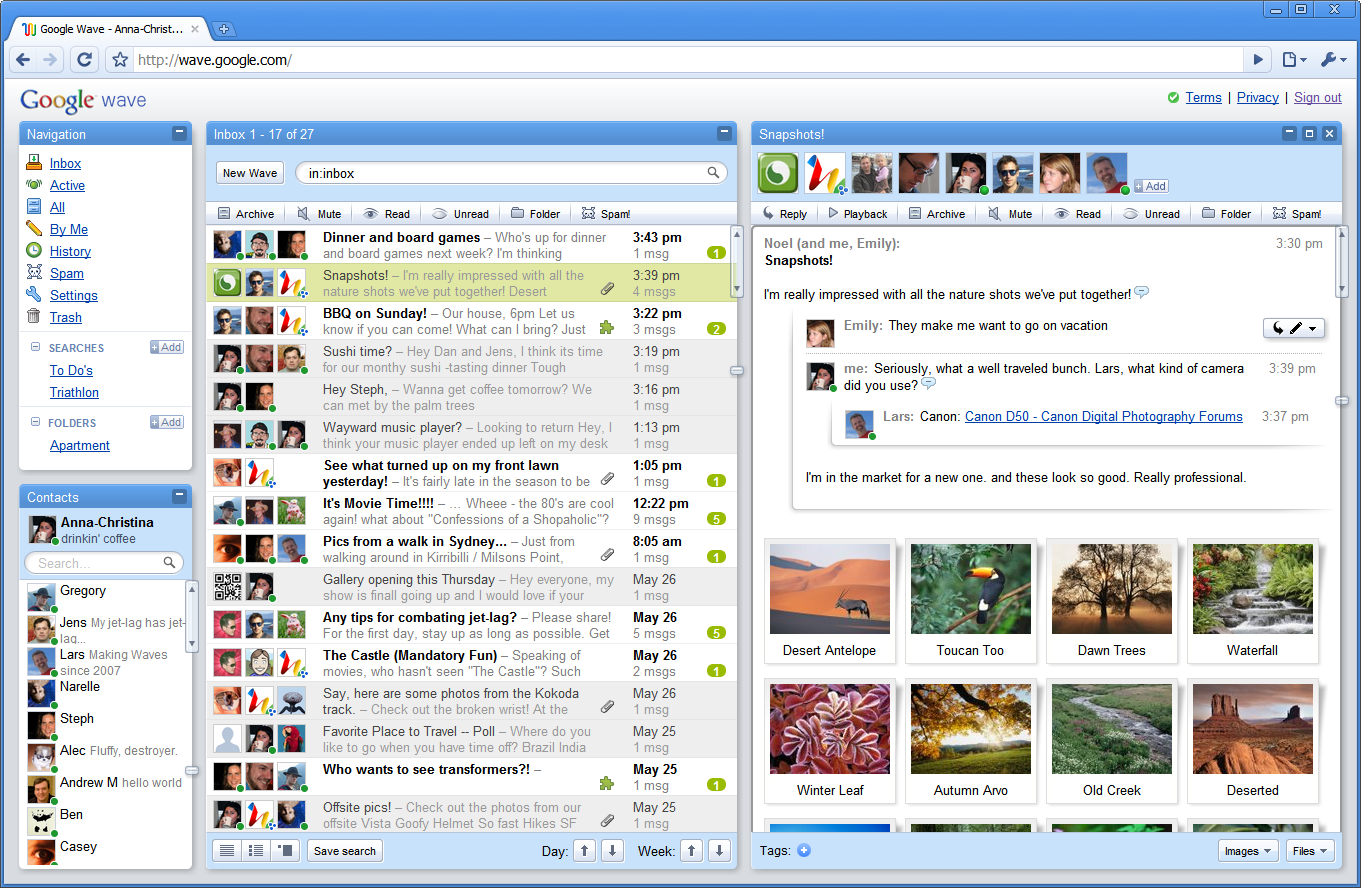 Google is inviting another 100,000 people to play in the Google Wave test pool. The developing duo of Jens and Lars Rasmussen envision Wave revolutionizing online communication and collaboration. I am not sure it will be revolutionary, but at first blush it seems at least evolutionary and worth taking a closer look at.
Google Wave is part social networking, and part unified communications, and all Google. Wave combines email, instant messaging, blogging, document sharing, wikis, and multimedia content to provide a seamless communications platform.
Unless you're one of the lucky (relatively) few invited by Google, you can't play with Wave just yet. But, I'll give you five reasons you should be anxiously looking forward to giving Google Wave a try:
1. Single Point of Access. Many of the functions of Google Wave already exist, but require logging into separate applications- email, instant messaging, office productivity, blogging, etc. Google Wave will provide you with one platform that ties all of these separate applications together.
2. Next-Generation Communication. A Wave is part email, part instant message, and part document. It combines text, photos, video, maps, and other elements into a single communication stream, enabling richer, more dynamic conversations. Wave really blurs the line between the various methods of communication you are used to. You can instantly add new participants to a wave by dragging them from your contact list. You can also link to other waves, photos, and other content elements by simply dragging them into the wave.
3. Real-time Sharing and Collaboration. Arguably the most compelling aspect of Google Wave is the real-time collaboration functionality. Wave participants can comment inline and the statements are accompanied by the user's avatar and a timestamp allowing you to easily identify who said what, when. Users can see text appear in the wave as it is being typed- even as they typo and backspace to correct the text. Wave participants can view and edit the same content at the same time-collaborating in real-time. Even cooler is the Playback function which allows new participants who just joined the wave to play the wave stream back post by post. They can add comments and edit text as they go through the stream and get caught up on their own schedule so they can join the real-time conversation.
4. The Wave Lives On. A wave is like an email or instant message on steroids. The entire wave has a life of its own. Participants on the wave are notified as the wave is updated or modified, and the wave can be easily searched based on any content of the wave-dynamically updating potential results as you type. You can link to waves from other email and instant messaging clients, and you can also embed waves within web sites or social networking services using Google Wave API's.
5. Its in the Cloud. One of the things that Google has always brought to the table is Web-based access. Not only is it nice to combine email, instant messaging, and other online communications in one place-it is also nice to be able to access the platform seamlessly from anywhere in the world. Have Web access? You can Wave.
It still remains to be seen if Google Wave is a competitor for social networking sites like Facebook and Twitter, or if it's a unified communications tool competing against Microsoft and Cisco. If it's as revolutionary as Google makes it sound, perhaps it is all of the above and none of the above at the same time.
No matter what arena it plays in, Google Wave seems like an intriguing new technology and one that I am anxious to get a chance to play with hands on. Where is my invite Google peeps?
Tony Bradley is an information security and unified communications expert with more than a decade of enterprise IT experience. He tweets as @PCSecurityNews and provides tips, advice and reviews on information security and unified communications technologies on his site at tonybradley.com.